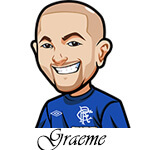 Follow @SBTSportBetting
With Group A & Group B done with, I got a payout on my Top Goalscorer bet for Croatia. Unfortunately that goal they scored screwed me as I only get 50% of what I would have made – but oh well, $180 sitting in the account. I'm so freaking rich!
I got mixed up with the games yesterday, so I had to bet on the Group B games first. I went with $100 on Spain -1 which got me to $180.50. I lost $80 as well on BTTS in the Chile game but oh well. So $180.50 there.
Then I bet $80.50 on Croatia to win – and no luck there. But $100 on Brazil -1 brings the balance to $235.15 at the moment.
Not bad, not bad at all. Almost 25% of the way to $1,000.
Today I'm going to go with splitting it up into portions of 4. That's $58.78 on each game.
I'm betting England -1, returns $161.64. Uruguay to win, returns $170.46.
Greece to win, $58.78 returns $235.12 and Colombia to win $114.62 return there.
I'll save any returns from Top Team Goalscorer till the group stages are over with.
Follow @SBTSportBetting