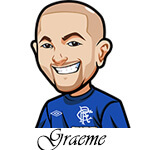 On June 24th, 2014 the final group games of Group C are played. The big one is Ivory Coast vs Greece, where both teams can theoretically control their own destiny. Although for one team, it's a little bit harder than the other.
Ivory Coast beat Japan and lost to Colombia. This has them on 2nd with 3 points. A draw in this game might not be enough if Japan beat Colombia by 2 goals. That IS an unlikely scenario however, so I think you have to go with Ivory Coast winning or drawing to get through. But the Coast will surely want to get the win to make sure there is no doubt.
For Greece however it's generally pretty simple – win. And possibly? Win by a lot.
if Greece win, they are on 4 points above the Ivory Coast. However Japan if they beat Colombia will also be up – so it's quite a tough thing for the Greece camp. Do you win and then try and hold out defensively? Do you try to keep pushing up? Ivory Coast are a strong counter attacking team. The whole thing is really tricky. And to me – this is the best part of the World Cup.
In games like this, in scenarios like this, we get to see exactly what a team is made of. If you want to win the World Cup you need to go into situations like this and do the business.
Will either of these teams do it? Or will Japan pull a massive underdog victory and qualify at both teams expense?
Greece vs Ivory Coast Betting Odds:
Greece To Win: 10/3
Draw: 13/5
Ivory Coast To Win: 19/20
Over 2.5 Goals: 1/1
Under 2.5 Goals: 4/5
The best odds for Greece vs Ivory Coast .
Greece vs Ivory Coast Betting Tips:
I think I have to go with the Greeks to win here.
That's just a beautiful big price that I can't ignore – not even a little bit. 10/3 odds is fantastic. Greece were unlucky versus Colombia, while they did a great job in drawing to the Japanese with 10 men. Prior to that, Greece were great in creating chances. Japan meanwhile hammered at their door when it was 10 men and Greece weathered the storm.
They have to take a LOT of confidence from that.
I mean the Japanease had 16 shots with 11 on target, 68% possession yet Greece came out of it with a point, despite the red card.
That's huge.
Greece attacking haven't looked great of course, but they have the players to do it and our system agrees – while they may not be favourites, 10/3 price is one we can't ignore.
Bet Greece to win.
Greece vs Ivory Coast Betting Props:
Whoever you think is going to win this game – maybe go with the draw first. So draw-Ivory Coast is 15/4 or draw-Greece is 8/1. That is another price that isn't too shabby. The Greeks could look at frustrating Ivory Coast initially, and then attacking more the 2nd half.