PDC Darts Tips Day 9 (23/12/16)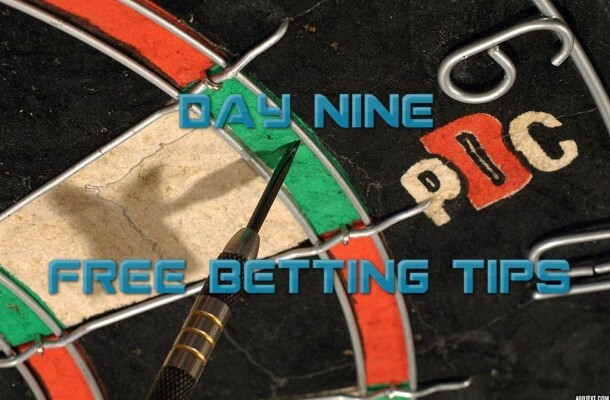 By
Posted:
December 23, 2016
We've reached day nine of the PDC World Championship, and we've also made it into the second round of matches. To get here, we've also not had any real shocks, with Stephen Bunting being the highest-seeded player to come a cropper. Today, we have the next of our double sessions, with a 1pm start in the afternoon for the first session, and then a 7:!5pm start for the evening session. Then we wrap up for Christmas. I have to say, the evening session is truly stacked, with Simon Whitlock, Gary Anderson and Adrian Lewis all taking to the stage. In the afternoon, we have Ian White, Michael Smith, Mervyk King, Benito van de Pas and Terry Jenkins playing, it's really an amazing line-up.
Notable Upcoming Bets:
Ian White vs Johnny Clayton
Ian White
First round: beat Kevin Simm 3-0 (87.20)
Total 180s: 2
Highest checkout: 130
Johnny Clayton
First round: beat Gerwyn Price 3-1 (89.88)
Total 180s: 1
Highest checkout: 120
This is a tough one to call, really. Ian White didn't really impress in the first round, but then he was never really pressed by his opponent. He did take out a fantastic 130, which was the highlight, of course, but I mentioned previously I was looking to take on White, and now I think is the time. Johnny Clayton, again, while not impressive, got a big win over the seeded Gerwyn Price. If he was able to tidy up his checkouts, his average would have been better, too, hitting 11 out of 31. While I agree with White being favourite, Clayton is far too big a price against someone who has been blowing hot and cold, so take Johnny Clayton to win
Michael Smith vs Mervyn King
Michael Smith
First round: beat Ricky Evans 3-2 (96.78)
Total 180s: 7
Highest checkout: 143
Mervyn King
First round: beat Steve West 3-2 (86.85)
Total 180s: 2
Highest checkout: 140
Like Ian White, Michael Smith was another seeded player I was looking to take on, but he got over the line in a great game against Ricky Evans. To be fair to Smith, he hit big scores and big checkouts, and fought hard to get the win. His average was exceptional considering he started slowly, too, and the 7 180s is indicative of how well he played. The same can't be said for Mervyn King against Steve West. King was poor for most of the match, he averaged 69 in the first set and West's bottle crashed when it came down to it. I can see Smith getting through here, but the odds are just a touch prohibitive. What does interest me, though, is the highest checkout in the match, as both men went big in their first match, with a 143 and a 140. The line is currently 136.5, and I like that, as I think King is going to have to pull something special out of the bag, and the big checkouts are what he'll need. So take highest checkout over 136.5 in this one.
Benito van de Pas vs Terry Jenkins
Benito van de Pas
First round: beat Tengku Shah 3-1 (91.18)
Total 180s: 2
Highest checkout: 125
Terry Jenkins
First round: beat Josh Payne 3-1 (93.66)
Total 180s: 4
Highest checkout: 140
I'm looking at the prices in disbelief here, as Benito van de Pas is 4/6 to win this. Sure, if he had won 3-0 in his first match with a better average, he would be shorter, but Shah was no mug and playing a qualifier is always tricky. His average of 91.18 was still decent, and we know he's got another gear to move into when he's pushed. I was impressed by Terry Jenkins, though, and Josh Payne wasn't an easy match. Jenkins scored well, looked comfortable on the oche and is playing like he's got nothing to lose. But still, I just can't believe the price of the young Dutchman, as he's one of the form players of 2016. Benito van de Pas to win is unbelievable value here.
Simon Whitlock vs Darren Webster
Simon Whitlock
First round: beat Dragutin Horvath 3-0 (98.70)
Total 180s: 1
Highest checkout: 170
Darren Webster
First round: beat Stephen Bunting 3-2 (94.46)
Total 180s: 8
Highest checkout: 157
Simon Whitlock got the job done convincingly against the prelim winner Draugtin Horvath in the first round, and put in a quality average of 98.70 with a 170 checkout to boot. It was a return of vintage Whitlock and it was great to see. The one thing missing from his game was the 180s, but you don't need them when you can hit the big finishes like Whitlock can. Darren Webster is the biggest scalp taker so far and he looked impressive in beating Stephen Bunting, even though Bunting missed a fair few match darts. Webster is just continuing his decent form, and might just fancy his chances against his Australian opponent. However, I can't see Whitlock losing, but there's no value in backing him at 4/9. What's interesting from the first round is that Whitlock only hit one maximum. Sure, he only played 10 legs, but 1 isn't that great. Webster hit 8, and yes, he played a lot more legs, 26 in total, but that's one nearly every three legs, a lot better than Whitlock. Webster is 11/4 to score the most 180s and that screams value to me. Take Darren Webster to score more 180s than Simon Whitlock and just hope he brings the same form as he showed against Stephen Bunting.
Gary Anderson vs Andrew Gilding
Gary Anderson
First round: beat Mark Frost 3-0 (96.16)
Total 180s: 5
Highest checkout: 116
Andrew Gilding
First round: beat John Henderson 3-2 (88.19)
Total 180s: 3
Highest checkout: 121
Two-time world champion Gary Anderson was another one of round one's comfortable winners, although to be fair, Mark Frost never pushed him at all, and Anderson will be looking to be tested just a bit more, just so he can start ramping up towards a run at three-in-a-row. He'll be pleased with his draw, as Andrew Gilding was truly terribly in the first two sets against John Henderson in the first round. Gilding did pick his game up in the final three sets, but you can't do that against Anderson, as he will just pull away. The handicap is -3.5 and Anderson to win 4-0 is the favourite with the bookies. There's just no angle I can take on this, as Anderson should win at a canter, and all the lines are tight, the bookies are giving nothing away, so no bet
Adrian Lewis vs Joe Cullen
Adrian Lewis
First round: beat Magnus Caris 3-0 (93.25)
Total 180s: 5
Highest checkout: 65
Joe Cullen
First round: beat Corey Cadby 3-1 (100.88)
Total 180s: 6
Highest checkout: 117
The press were reporting just how comfortable Adrian Lewis' win over Magnus Caris was, but Caris missed a few chances at doubles to make the scoreline closer, and although Lewis' average was great, he struggled on the doubles, hitting 9 out of 29, for 31.03% efficiency. I was disappointed with him, but also glad, as I am still looking to oppose him after an indifferent year. He'll actually be a bit worried about facing Joe Cullen, as Cullen was unbelievable against Corey Cadby. His Australian opponent pushed him hard and it brought out the best in Cullen. My worry is that he won't be able to back that up against Lewis? Lewis leads 9-1 on the head to head, and has won 9 in a row, which doesn't bode well for Cullen. However, there's a spot of value with Cullen, as I think Lewis is vulnerable and if Cullen replicates his performance against Cadby tonight, Lewis will be in a lot of trouble and will need to start hitting his doubles.
I'll be back with more free tips after Christmas, so until then, enjoy the darts and have a fantastic Christmas.