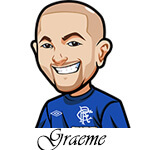 One interesting bet you can make for Euro 2012 is predicting what teams will make the final of Euro 2012.
This is obviously a rather tricky bet to make – predicting both finalists. There are potential landmines for teams all over the place.
Now when betting the Euro 2012 Finalists, I would recommend picking 4 different teams you think can make the finals, and then placing bets around those four.
The best thing to do is not over-analyze the group stages. Will there be upsets? Sure. But let's go with the two favourites in each group:
Group A: Russia, Czech Republic.
Group B: Germany, Netherlands.
Group C: Spain, Italy.
Group D: France, England.
Assuming everything goes to plan, those are the 8 teams that will make up the bracket. Now it's a process of elimination.
First, we can eliminate Russia and Czech Republic. Of the 8 teams they are of the lowest quality, and any bet on them being finalists is a long-shot. Could they make it? Sure – but then you just want to bet on them to REACH the final, not the more risky bet of betting the two finalists.
In Group B, we can also eliminate the Netherlands. Why? Because Portugal are huge contenders in that group too, and could make it ahead of the Netherlands. Therefore we really don't want to bet a team that are 50/50 to make it out of the group stages.
With that, I think we can safely bet Germany to make it into the semi-finals, and that is half the battle.
That leaves us with Spain, Italy, France and England. Of those four, I think we can eliminate England. England are the lowest quality, and to be honest are a complete and utter mess at the moment. With a new manager and various personnel issues I think they are a long shot to make the final.
So with that, we're down to four teams. Germany, Spain, Italy and France. To me, betting those four in combinations for Euro 2012 finalists is the best bet, due to the odds.
It depends on the sportsbook of course, but here are potential final odds:
Spain vs Germany: 8/1
Spain vs Italy: 16/1
Spain vs France: 20/1
Germany vs France: 28/1
Germany vs Italy: 33/1
Italy vs France: 80/1
As you can see, the odds are very generous in our favour. Back all 6 of them and if one comes up, even if it's the lowest of Spain vs Germany, we're good for making money.
You might think about skipping out on Spain vs Germany as the payout is so low – but both those teams are strong contenders to win their group. This means that they wouldn't face each other until the final if they both win their group. The only reason you should not bet Spain vs Germany as Euro 2012 finalists, if you are very confident that one of them won't win their group.
Hopefully this analysis of Euro 2012 Finalists helped.