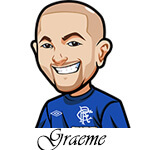 Follow @SBTSportBetting
The Group of Death in Euro 2012 is Group B, and one of the most intriguing matches is the 2nd Group D Match in Germany vs Portugal.
Germany are one of the top favourites to win Euro 2012, however to do that they have to take on 3 sturdy opponents in Denmark, Holland and Portugal to escape the group stage.
No surprise – Germany are favourites. Although they aren't heavy favourites which is quite a surprise. I'm not complaining though, because I see great value in betting Germany to beat Portugal.
Portugal had a woeful qualifying campaign. They just can't play as a team, and it showed throughout the Euro 2012 qualifiers. They won just 5 of their 8 games, and only qualified to the Euro 2012 playoffs on goal difference. Even then, they struggled in the 1st leg against Bosnia and Herzegovina, when they really should have wiped the floor with them.
Germany on the other hand, flexed the strong German muscle they always do, wiping the floor with every team in their qualifying group. Turkey, Belgium and Austria are not easy games – but Germany easily beat them all, and showed that they are a force to be reckoned with.
While it's not the most appealing price on first look – I absolutely LOVE betting Germany to win here. They are a machine, and they will breeze through Portugal with relative ease.
Bet Germany to win
Additional Germany vs Portugal Betting Tips:
Germany Clean Sheet:
Germany have a very solid defense. Really in qualifiers the only times they conceded were when they were attacking like crazy to run up a score. That's something they won't need to do during Euro 2012.
Portugal will be relying heavily on Cristiano Ronaldo and the Germans will know this. They are tactically superior, and on the day should really be able to stop Portugal. At least, enough to reflect the generous odds of 13/8 that we're getting.
Follow @SBTSportBetting