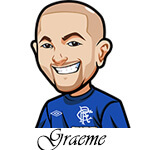 Ah, the forgotten two. Group D features England and France – and that's all that really matters to a lot of people. Most of them think it is a foregone conclusion that England and France will qualify for Group D, and Ukraine and Sweden are just making up the numbers.
Yet Ukraine and Sweden are both great teams, and both can really make a name for themselves with a strong win in their Group D Opener on June 11th, 2012.
Ukraine are decent favourites, and in my opinion this is wrong. Oh so so wrong.
I just don't understand why Sweden aren't getting any respect – but I'm not complaining, believe me. Sweden are my dark horse for Euro 2012, and I plan on making a lot of money betting on them, starting with the Ukraine vs Sweden Group D Opener.
Ukraine are hosts. They didn't earn their way to Euro 2012 – they're here because they're opening the door up and letting everyone come and play ball. Look back at all the European Championships and you'll see that when an average team is the host – they don't do well. They don't do well at all. Just the opposite. They do poor, they can't handle the pressure, and they go out with a whimper.
Just like Ukraine will.
Then we have Sweden. Sweden, who qualified from Group E in the qualifiers beating the Netherlands, and losing just 2 of their 10 games. They also scored a whopping 31 goals, almost DOUBLE what France and England scored.
Sweden have so many factors to their team. Zlatan Ibrahimovic may be retiring after this tournament, so you know he is going to play his heart out. They also have quality players like Sebastian Larsson, who can be amazing in free kick or corner situations.
Sweden are a LOCK. A LOCK, I say.
Additional Sweden vs Ukraine Betting Tips:
Sweden Handicap Betting:
You can bet Sweden -1 at 6/1 or even Sweden -2 at 14/1. I would back both of these – at the very least Sweden -1. This is a steal, and Sweden are going to have a fantastic start to the tournament and easily dominate Ukraine.