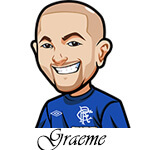 Albania are pretty much the first team eliminated from Euro 2016. While they could beat Romania and take 3rd place with 3 points, I expect that won't be enough to have them qualify as the best 3rd placed team.
It's been a disappointing couple of games for Albania but they can leave France with their heads held high. They had a solid enough game against Switzerland and gave as good as they got – going down to 10 men early on messed up a lot of their plans. They played incredible against France and that was really nice to see. They had a lot of dangerous attacks and were really unlucky to lose that one. They really deserved at least a point there.
Romania at least can empathize with them. They also deserved at least a point aganst France but France stole that one with the late goal by Payet. Romania then played an interesting game against Switzerland where they let the Swiss dominate the possession but got a lot of dangers attacks in and a fair amount of shots. It's a strong indication of the way Romania play, and this is actually an extremely interesting game. With two games going at the same time I'm going to be tuning into this one initially.
Albania vs Romania Match Betting Odds:
Albania: 12/5, 3.40, +240
Romania: 23/20, 2.15, +115
Draw: 11/4, 3.75, +275
Albania vs Romania Match Betting Tips:
Bloody hell this is a hard one to predict. I could honestly sit here and write up both teams to win this game. Albania showed so much against France and it was really great to see.
I don't think they will be up for this one as much though and I think Romania will just be too good for Albania. What makes things interesting however is how Romania do goal difference wise – that could come into play for sure. I could easily see Romania stifling this game and winning 1-0 but is that really enough? This is a team that scored 11 in 10 in qualifying. Although only a couple of those were 1-0 wins.
I like Romania to do something they haven't did yet and that's control this game. They've let Switzerland and France do that in the previous group games but I like them to dominate the possession. And conceding only two goals in qualifying shows just how tight they can be defensively.
I'm going to take Romania to win here as I just think their quality is too much and they'll dominate this one.
Albania vs Romania Prop Bets:
One thing I've been thinking a lot about is the score. If Romania go up 1-0 and hold on or if they push for more. I think their counter attacking is good enough that they'll push for another knowing how important goal difference can be. Yeah they'll be a bit nervous but that's understandable.
I'm going to throw a bet on Romania -1. I just don't rate Albania too highly.