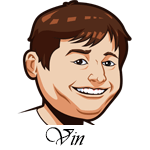 Follow @SBTSportBetting


[Get Exclusive Tips on our Patreon, Ad-Free
]
We are big fans of fantasy football – but we also love daily fantasy football. This is where you can pick whatever players you want each week within a budget, and square off against thousands of other people. We play it at FanDuel Daily Fantasy Sports and that's who we would recommend if you want to play for fun and try and win real money.
Of course, we do it all for fun.
Our friend Vince does it to win.
Vince runs the awesome website DailyFantasyGuy.com and this dude is serious about daily fantasy sports. He killed it during the NBA and MLB seasons earlier this year, and how he's focused on the NFL.
We've asked Vince to write up a weekly column going over the sleepers in Daily Fantasy Sports and he has kindly agreed. While all of this advice is intended for daily fantasy sports if you're in a fantasy football league then be sure to read too because there will be a lot of great advice for you within.
Over to you Vince….
I love early season daily fantasy football. There are hidden gems everywhere as so many players are priced based off of reputation and last season's stats. Drew Brees thus far this season hasn't been Drew Brees, but he's still being priced like Drew Brees. So many fantasy players are drafting him based on last year's Drew Brees, but he hasn't been doing it. Maybe he'll turn it around and do what we everyone thought he was going to do, but that doesn't change the fact that through two weeks Drew Brees hasn't been carrying anyone's team into the prize pool and he's still priced like he is. Using the money that you save on Drew Brees on a more productive, yet cheaper QB is the key to winning daily fantasy football. Which is what this column is all about.
We're looking for daily fantasy football sleepers. Guys who had a bad two weeks who are going to break out this week, guys who are underpriced because of last year's performance and guys nobody saw coming. We might mix in some obvious names here and there, but the point is always to save you money on draft day and how best to use that saving to build the best winning daily fantasy football team you can. Let's get started.
Fantasy Football Sleepers Week 3: Quarterbacks
DRAFT:
Aaron Rodgers: Obvious name? Sure. Expensive play? Absolutely, but if you are going to pay up for one player this week it should be Aaron Rodgers. A top-3 fantasy performance is all but guaranteed. A 42-35 game is not out of the question.
Russell Wilson: Hey, remember the Super Bowl? When the Seahawks destroyed the Broncos and won their first championship? The rematch is this week and it's in Seattle. And Seattle is coming off a loss. This does not bode well for the Broncos. Wilson has averaged a solid 20 points per game so far this season and I see no reason why he couldn't throw at least two touchdowns this week.
Joe Flacco: The Browns have allowed 20 or more fantasy points to the opposing QB in both games so far this season while Flacco has averaged 16.6 in two games. He's not in my top-5, but he is in my top-10 and could be a solid value that allows you to pay up in RB and WR.
DON'T DRAFT:
Peyton Manning: It's not that he won't perform in Week 3, but he is currently one of the most expensive players in all of daily fantasy sports and I just don't see him performing at that level this week. For the season he's fifth overall among QBs and while I think he'll finish higher than that, against this Seahawks defense is not the week he's going to prove it.
Fantasy Football Sleepers Week 3: Running Backs
DRAFT:
Darren Sproles: The #2 running back in all of fantasy sports going for the price of a high-end back-up? Yes, please. On the depth chart he may be behind LeSean McCoy, but in the actual game plan he is more like a the 1B to McCoy's 1A. While he's unlikely to match his outstanding performance from a week ago, he should still rack up some points and has had a touchdown in each game so far this season.
Khiry Robinson: This week the Saints lost Mark Ingram at running back and the biggest beneficiary of that should be Robinson. Ingram had 19 points in each of the first two games and if Robinson can even hit half of that he'll be an outstanding value in Week 3.
DON'T DRAFT:
Marshawn Lynch: He's dealing with back issues and while I would still expect him to play, I wouldn't expect top-5 RB numbers which is what he is currently priced at.
Fantasy Football Sleepers Week 3: Wide Receivers
DRAFT:
Steve Smith: Smith is second in the NFL in targets through two weeks and has been a favorite of Flacco thus far this season. He won't get you the deep-ball, but he will add some nice reception numbers and solid yardage. In a game that the Ravens are favored to win, I like Smith.
Golden Tate: This is a simple one; Golden Tate plays for the Lions, the Lions play the Packers and that game is going to be a shootout. Tate has 5 or more catches in both games this season and could easily play his best game of the season this week. A 56-49 game is not out of the question.
DON'T DRAFT:
Demaryius Thomas: Any WR who is going to match-up with Richard Sherman should not be in the top-10 of fantasy football WRs. It's not fair.
Fantasy Football Sleepers Week 3: Tight End
DRAFT:
Dennis Pitta: Last week Pitta's back-up, Owen Daniels, caught two touchdown passes and all of the sudden Pitta isn't a top-10 fantasy tight end? Umm, okay. Pitta is still the second most targeted TE in fantasy and I like the Ravens a lot this week.
Zach Ertz: For the season Ertz has 11 targets for 7 catches and 163 yards. Julius Thomas has 13 targets, 11 catches and 143 yards. The difference between the two? Touchdowns. This will change at some point and Ertz will establish himself amongst the big name TEs.
DON'T DRAFT:
Rob Gronkowski: I love Gronk, but Brady hasn't looked good thus far and neither has he. Worse, he's still being priced like it's 2012.
Fantasy Football Sleepers Week 3: Defense/Special Teams
DRAFT:
Houston Texans: Two words: Eli Manning.
New Orleans Saints: This defense is supposedly improved. Through two weeks we haven't seen it, but against the Vikings with Matt Cassell and without Adrian Peterson? I think we might see it.
DON'T DRAFT:
Green Bay Packers
Detroit Lions
Like I said, it's going to be a shootout. A 70-63 game is not out of the question.
To read more indepth analysis, be sure to head on over to DailyFantasyGuy.com.
Follow @SBTSportBetting