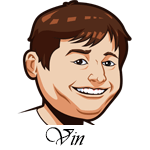 Follow @SBTSportBetting


[Get Exclusive Tips on our Patreon, Ad-Free
]
I have a new daily fantasy strategy that really has nothing to do with strategy. I call it the "starting guys who play on Monday Night Football" strategy. Or SGWPoMNF for short.
How does SGWPoMNF work? Simple: I start guys who play on Monday Night Football.
A lot of times I have built my teams completely around Sunday day game players (unknowingly) and seen myself in the money come Sunday night and Monday night. Then I watched as my team's place went down. 175th turns into 330th turns into 588th turns into 12504th. Down and down you go. You feel good things about your teams and then the night games happens and it all goes away. NO MORE, I SAY.
I am now building my team with at least one Monday Night Football player so that I can be the usurper. I want to ruin other people's nights (and standings) with my quarterback going off, not the other way around.
This week it looks like that guy is going to be… Mark Sanchez? Maybe I should rethink this SGWPoMNF thing.
Fantasy Football Sleepers Week 10: QUARTERBACK
DRAFT
Ben Roethlisberger: I'm done fighting it. Big Ben is the man and he will throw for five touchdowns again this week.
Matt Ryan: The Falcons and Ryan have been a bit of a letdown this season, but not against the Tampa Bay defense. He threw 3 TD passes last time they faced off and he can definitely match that again this weekend.
Mark Sanchez: Let's forget that he's the same Mark Sanchez that used to play for the Jets and think of him as the high-powered Eagles offense's backup QB. He's also going against the Panthers who have been… not great.
DON'T DRAFT
Matt Stafford: The Miami defense is for real. Stafford might show up, but he won't be worth big money.
Fantasy Football Sleepers Week 10: RUNNING BACK
DRAFT
Matt Forte: Obvious name? Yes. Most expensive RB in fantasy? Most likely. Do I care? No. 25+ fantasy points in four straight. He isn't a key cog in the Bears offense, he is the Bears offense and he's going against the Packers who are allowing huge yards to running backs. Yes, please.
Ronnie Hillman: 13+ points in four straight games and now he's facing a Raiders team that doesn't have a chance against the Broncos. Once they get comfortable expect a heavy dose of Hillman.
Steven Jackson: Had his most carries of the season before the bye week and was started to look like the guy they paid for. Plus, the Tampa defense.
DON'T DRAFT
Mark Ingram: I still love him long term, but against the Niners not so much. He could get some help back this week which would bring down his high carry totals.
Fantasy Football Sleepers Week 10: WIDE RECEIVER
DRAFT
Kelvin Benjamin: I liked him last week and he dropped a touchdown in the end zone. That didn't exactly work out, but I fully expect this week to be better as he faces the Eagles defense who has made legends out of much lesser receivers thus far this season.
Martavis Bryant: See Roethlisberger, Ben. Five touchdowns in his last three games.
Davante Adams: He's been gaining more and more confidence from Aaron Rodgers as the season goes one. Over 70 yards in two of the last three and two touchdowns in the last four. The Packers will score and Adams is your cheapest bet.
DON'T DRAFT
Dez Bryant: I don't care that he's facing the Jaguars if Brandon Weeden is throwing to him.
Fantasy Football Sleepers Week 10: TIGHT END
DRAFT
Martellus Bennett: Bit of an obvious name, but it's a bye week. I think this will be a high scoring affair and Bennett finds the end zone.
Jason Witten: Last week Brandon Weeden was overly reliant on Witten in the offense and I could easily see that continuing this week.
Owen Daniels: He's always heavily targeted in this Ravens offense and at his price he could be a great vlaue.
DON'T DRAFT
Heath Miller: If your QB throws 5 TD passes and you only manage one catch, you are dead to me.
Fantasy Football Sleepers Week 10: DEFENSE
DRAFT:
New Orleans Saints: Two straight 10+ fantasy point games and now facing a 49ers team that only scored 10 points against the Rams. At home.
Jacksonville Jaguars: Despite their record they only have two negative scoring weeks and three 10+ weeks. Brandon Weeden. London. Let's do this.
DON'T DRAFT
Seattle Seahawks: Just have a bad feeling about this one for Seattle. We're due for a "stupid Manning game.that makes no sense".
Follow @SBTSportBetting