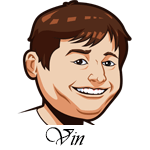 Follow @SBTSportBetting


[Get Exclusive Tips on our Patreon, Ad-Free
]
I took a week off last week for vacation and didn't even bother with daily fantasy football. It was nice to take a step back, not think about fantasy and just watch some football.
It's not really as fun to watch this way, but it was nice for a week. Even though I was trying not to think about fantasy, it was sort of amazing how much fantasy popped into my mind throughout the games. When a QB throws to someone in the end zone and misses, then tries again and misses, before settling on someone else. When a RB carries his team down the field and then sees his QB throw in the red zone for the TD. A penalty that calls back a special teams touchdown. It's amazing how often our fantasy lives are toyed with. One catch, one penalty, one run and the whole thing could turn out differently. Your shitty team could be in first place if just a few things went a different way.
I guess what I learned is that you have to believe in your team. Sometimes your team doesn't win because you picked wrong, but sometimes your team doesn't win because your guy got pass interference against him when he was wide open for the easy touchdown. To win at fantasy football you need to have the strength to accept the things you cannot change, the courage to change the players you can and the wisdom to know the difference. Nobody said this would be easy.
On to the picks…
(We're focusing on Sunday/Monday games this week because of American Thanksgiving. If you're playing in Thursday games, I wish you luck and I like Lions, Dallas WRs and the Seahawks D.)
QUARTERBACK
DRAFT
Ben Roethlisberger: The Steelers do this weird thing where they play well against good teams, but are terrible against bad teams. It doesn't make any sense. Roethlisberger is a key component in this as he has no problem throwing 5 TD passes against the Colts, but against the Jets he turns into Geno Smith. I don't get it either. This week he gets the Saints who are a bad team, but at 4-7 are tied for first place in the division. So which Steelers/Ben will we get? I'm betting on the good one.
Kyle Orton: You probably won't win a Super Bowl with Kyle Orton, but you can definitely win some fantasy game. Since becoming the starter he's only had one game without a TD pass. The Browns defense will not be the second to accomplish that feat.
Eli Manning: I know, I hate writing Eli in this spot as much as you hate seeing him in this spot, but the Jaguars are a great match-up for any QB and Eli suddenly has all the weapons in the world. He's thrown 2+ TD passes seven times this season and I think he makes it eight this week. Then next week he throws four picks and single handedly loses the game for the Giants. It's the way of the universe.
DON'T DRAFT
Andy Dalton: You can't pay me to take Andy Dalton. Can I be wrong? Of course, but I'll sleep better at night knowing I didn't take him.
Phillip Rivers: Hey, remember when the Chargers looked like they were going to be really good this year? That was neat.
RUNNING BACK
DRAFT
Justin Forsett: 20+ carries lead to 100+ yards and 2 TDs in each of the last two games. I see that continuing this week in a game that the Chargers will be over matched in. This is Forsett's team now.
Denard Robinson: The Giants have been allowing big numbers to running backs all season and Denard Robinson is slowly turning into a legit starting NFL running back. It's the irresistible force versus the movable object. Expect 100 yards.
Rashad Jennings: He gets a lot of touches, he's somewhat cheap and this is a winnable game for the Giants. Sometimes that's all it takes.
DON'T DRAFT
Eddie Lacy: He's had some good games against the Saints and the Eagles mixed with some sub-40 yard performances against the Dolphins and Lions. What category do you think the Patriots D will fit into? Hint: It's not the 4-7 Saints.
Mark Ingram: After becoming The Man, he's now back to being The Man(1A) thanks to Pierre Thomas' return. Boo.
WIDE RECEIVER
DRAFT
Keenan Allen: Rivers hasn't been going deep lately. Allen is his top target when going short and to the middle of the field. The Chargers should be playing from behind. Science.
Sammy Watkins: His recent performances don't do much for his case, but I like him this week. The Browns secondary is only half good and Watkins towers over all of them. Plus, you know he's sick of all this Mike Evans and Odell Beckham talk.
John Brown: Feels like he's Stanton's favorite target and the Falcons are a good match up for him.
DON'T DRAFT
Jordy Nelson: I don't like this match up for the Packers. I'm usually wrong when I say that, but I believe in the Pats secondary to shut one of the Packers wideouts down.
Desean Jackson: It doesn't matter who the QB is for the Redskins, this isn't going to be pretty.
TIGHT END
DRAFT
Delanie Walker: Last week in my yearly league I had a must win game. Walker had been my TE all year, but he was coming off a concussion so I wasn't sure if he'd be at full strength and started Coby Fleener instead. Walker went off with 5 catches for 155 yards, Fleener wasn't close to that and I lost by three. My point? Walker is back. Don't doubt him.
Travis Kelce: Arguably the biggest game of the Chiefs season this week so I see them leaning heavily on their best non-Jamaal Charles playmaker. (That's Kelce.)
Garrett Graham: Not expecting huge numbers here, but Mallett does look his way more than Fitzpatrick did. Tennessee is not exactly striking fear here and he could catch a TD. If he doesn't, he probably won't do much.
DON'T DRAFT
Dwayne Allen/Coby Fleener: The Colts run so many two TE sets that it's hard to say who will get what. Last week I wanted a huge game from Fleener and instead saw something called Jack Doyle get a bunch of catches. Don't trust Colts tight ends.
Jermain Greshman: The third option in a passing game that is led by Andy Dalton. No, thank you.
DEFENSE
DRAFT
Miami Dolphins: Secretly one of the best fantasy defenses of the season and now they get Geno Smith and the Jets.
New York Giants: Definite buy low, but it is the Jaguars we're talking about. Blake Bortles has been… not great. He will be sacked, he could be intercepted, he might fumble.
DON'T DRAFT
San Diego Chargers: For some reason FanDuel has them as their third most expensive defense. I have no idea why. West coast team at noon and super beat up. Gross.
Follow @SBTSportBetting