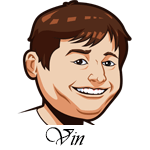 Follow @SBTSportBetting
With the season starting up soon, we thought it was time to take a look at the American League Cy Young award winner odds. The American League winner is extremely hard to predict as last year's winner Corey Kluber was the first two-time winner this award has seen since Pedro Martinez in 1999-2000. Sixteen winners in seventeen years is the definition of parity and picking this year's winner is no easier than picking the World Series winner.
Of course, that's why these always have such great odds. Corey Kluber is +250 to repeat this award, Chris Sale (who looked to have this thing locked up in July) is +225. Those are the only two "bad" odds on the board. Everyone else is +600 or better. That's a good thing in that picking a winner can be very profitable, but also a bad thing in that picking a winner is really hard.
My favorite pick on a pure value basis is James Paxton at +1500. This guy was 12-5 with a 2.96 ERA last season with 156 strikeouts in 136 innings. He would've definitely been in the conversation for the award last year if it wasn't for injury. If this guy can put up this kind of numbers over 200 innings, he would be a top vote getter in the award for sure. If the Mariners have any hope of competing in 2018, they'll need him to.
Another sleeper pick I like is Jose Berrios at +2500. This guy put up a 3.89 ERA as a 24 year old last season and is only expected to get better. He's the best pitcher on a young team that has the offense to get him a lot of wins this year. The big issue with him is the walks. He had a 2.8 walks per nine last year which needs to come down for him to compete for this. If he can bring those down, I think he could do something special this year. A big if, but at +2500 what do you expect? The odds are the odds for a reason.
If we're being honest though, this is a two-man race. If you like Chris Sale, go with Chris Sale. If you like Corey Kluber, go with him. The only other move I could see here is hedging that Kluber bet with Carlos Carrasco. The AL Central is pretty bad this year so those two should have some great games against the Royals and White Sox to really pad the stats. Sometimes, that's all it takes.
2018 American League Cy Young Award Winner Betting Odds


Chris Sale
  +225
Corey Kluber
  +250
Carlos Carrasco
  +600
Justin Verlander
  +800
Luis Severino
  +800
James Paxton
  +1500
Gerrit Cole
  +1800
Dallas Keuchel
  +1800
Masahiro Tanaka
  +2000
David Price
  +2150
Jose Berrios
  +2500
Chris Archer
  +2800
Aaron Sanchez
  +4000
Danny Duffy
  +4000
Garrett Richards
  +4250
Cole Hamels
  +5000
Marcus Stroman
  +6000
Trevor Bauer
  +6000
Lance McCullers Jr
  +7000
Felix Hernandez
  +7500
Shohei Ohtani
  +8000
Michael Fulmer
  +8000
Rick Porcello
  +8000
Ervin Santana
  +10000
Sonny Gray
  +10000
Drew Pomeranz
  +10000
Charlie Morton
  +10000
Craig Kimbrel
  +10000
J.A. Happ
  +12500
Blake Snell
  +13500
Lucas Giolito
  +20000
Sean Manaea
  +20000
Dylan Bundy
  +30000
Andrew Heaney
  +30000
CC Sabathia
  +30000
Marco Estrada
  +30000
Jordan Zimmermann
  +30000
Mike Leake
  +30000
Kevin Gausman
  +30000
Kendall Graveman
  +30000
Jordan Montgomery
  +30000
Kyle Gibson
  +30000
Jake Odorizzi
  +30000
James Shields
  +50000
Follow @SBTSportBetting