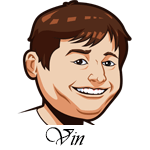 Follow @SBTSportBetting
The defending American League and World Series champions aren't the favorite in 2018. Despite the Astros adding Gerrit Cole in the offseason to go with the top offense in baseball they had last year, they enter the year very slightly behind the Yankees in the American League pennant odds. That's going to be a heck of a rotation though with Justin Verlander, Dallas Keuchel and Lance McCullers.
The reason, of course, is the Yankees are going to be really good this season. They have year two of the Aaron Judge experience, a healthy Greg Bird and also added the National League MVP in Giancarlo Stanton. These three could combine for over 100 homeruns easily and they are the scariest team in the league heading into this year.
Behind them we have the Cleveland Indians at +350 who are always a threat. That amazing rotation and bullpen is still intact for the 2018 season and they are the best division lock in all of baseball. The Central is bad and the Indians are great. They are as good of a bet as anyone this year.
Shohei Otani plus Mike Trout equals playoffs? The Angels at +1300 are as good of a Wild Card favorite as anyone right now. It's hard to see how they challenge the Astros, but a Wild card berth definitely seems doable.
Mariners fans should be encouraged as their team is +1800 to win the AL. Not great odds, but they are the sixth best which means that the books see them as a potential Wild Card team. The Mariners have the longest playoff drought in all of professional sports so even a second Wild Card could be considered a huge success for this team. It's been since 2001 and Ichiro Suzuki's rookie year, that's long enough. Let's get King Felix Hernandez, Robinson Cano, Nelson Cruz and the rest of the M's in the playoffs this year.
Complete AL Pennant Odds are below.
MLB American League Pennant Odds
New York Yankees
  +275
Houston Astros
  +280
Cleveland Indians
  +350
Boston Red Sox
  +650
Los Angeles Angels
  +1300
Seattle Mariners
  +1800
Toronto Blue Jays
  +2600
Minnesota Twins
  +2700
Baltimore Orioles
  +4000
Tampa Bay Rays
  +4000
Texas Rangers
  +4800
Chicago White Sox
  +7500
Kansas City Royals
  +7500
Oakland Athletics
  +7500
Detroit Tigers
  +50000
Follow @SBTSportBetting