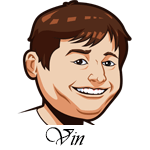 Follow @SBTSportBetting
Last season's National League MVP now plays for the Yankees so this year's race feels pretty wide open. The contenders are obvious as the top three teams in the National League are far better than the rest of the league. That doesn't mean that someone from there will, it just makes it more likely.
The preseason MLB MVP futures are up at 5Dimes and today we're taking a look at them. Let's take a look at who they think the favorites are.
National League MVP Odds

Bryce Harper
  +300
Kris Bryant
  +400
Nolan Arenado
  +500
Paul Goldschmidt
  +800
Joey Votto
  +800
Cody Bellinger
  +800
Anthony Rizzo
  +1200
Corey Seager
  +1800
Freddie Freeman
  +2000
Charlie Blackmon
  +2500
Clayton Kershaw
  +2500
Yoenis Cespedes
  +3000
Anthony Rendon
  +3000
Max Scherzer
  +3000
Marcell Ozuna
  +4000
Justin Turner
  +4000
Eric Hosmer
  +5000
Rhys Hoskins
  +6000
Daniel Murphy
  +8000
Trea Turner
  +8000
Jake Lamb
  +10000
Evan Longoria
  +10000
Jay Bruce
  +10000
Ryan Zimmerman
  +10000
Kyle Schwarber
  +10000
Wil Myers
  +10000
Josh Bell
  +10000
Buster Posey
  +10000
Yasiel Puig
  +10000
Matt Carpenter
  +20000
Chris Taylor
  +20000
Domingo Santana
  +20000
Adam Duvall
  +20000
Christian Yelich
  +20000
Carlos Santana
  +20000
Andrew McCutchen
  +20000
Eric Thames
  +30000
Brandon Belt
  +30000
Willson Contreras
  +30000
Trevor Story
  +30000
Eugenio Suarez
  +30000
Paul DeJong
  +30000
Todd Frazier
  +50000
Starlin Castro
  +50000
Justin Bour
  +50000
The favorites are Bryce Harper and Kris Bryant because of course they are. These are two of the best hitters in the game right now and their teams should almost definitely be in the playoffs this season.
For Bryant, while Anthony Rizzo is quite good he's not quite that elite level that Bryant is. Plus, it feels like there is still a chance that he could level up and put up an outstanding season. He's still young and the Cubs are here to stay.
Harper is Harper. He might never touch that magical 2015 season that he had, but he's never going to bad and he's going to be the best hitter on the Nationals. A team that should easily win the National League East. They are going to win 90+ games, he's going to hit 30+ homeruns and he'll get consideration.
I'm a bit more interested in the Dodgers' hitters Corey Seager (+1800) and Cody Bellinger (+800). This is likely to be one of the best teams in the NL and there offense is more good across the board than great. That makes Seager and Bellinger likely to stand out. They are both still young with room for improvement. Either one of them is a good value, in my opinion.
For a sleeper, how about Christian Yelich? He's going to see a huge boost to his stats from moving from Miami's cavernous park to the Brewers homer friendly park. He's been worth 4.5 WAR in each of the past two seasons and at only 26 he could make a leap this year.
The only other guy I'd consider here is probably Joey Votto at +800. He's the best hitter in the NL, he just is. He always is near the top of every leader board, but his team is bad and it's never quite enough to overcome it. He had a good argument last year, but Stanton's huge homer numbers outshone him. Well, Stanton's gone now. Why not Votto?
Follow @SBTSportBetting