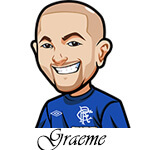 This week in golf we have the US Open.
I'm extremely excited for this one. I mean all Majors are exciting from a viewing perspective – but this one in particular I am super curious about.
It takes place at Winged Foot which hosted the US Open back in 2006. I'm super curious about this course and how it all goes. It's just such an interesting and extremely tough course.
It went through a big restoration project and it looks to be so so tough. One mistake can screw you.
The winner of this tournament will no doubt have to play to the absolute best of their ability and I am going to be glued to it watching.
It also helps that I have a heck of a US Open history in terms of betting.
In 2015, I called the winner with the +800 Jordan Speith. I was able to repeat in 2016 with the +1400 winner Dustin Johnson.
2017 was a poor one with a low odds Rickie Fowler place as the only win. However 2018 I managed to get the +7000 Tony Finau as a place.
Then there was last year where I correctly predicted the +8000 Gary Woodland to win which is one of my proudest golf tips.
Here's the betting slips for all of those: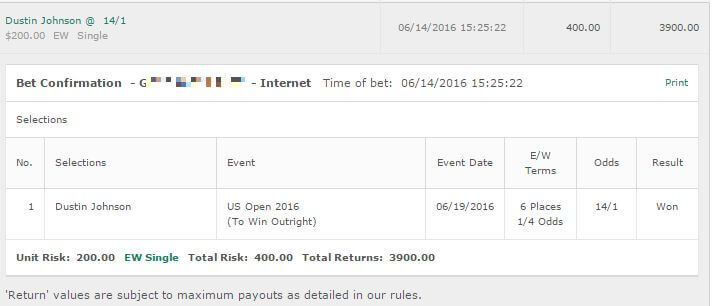 Here are my bets for this years US Open:
US Open 2020 Betting Tips:
Just as a reminder, I place these bets at a UK sportsbook. I do each-way betting normally where your betting unit is split half to win, half on them to place. Place is normally in the top 5. However for the Majors they up it and the sportsbook offers to win and Top 8.
If your sportsbook doesn't accept each-way betting and they don't offer "Top 8" next best option is to go with Top 10 I would say as opposed to Top 5.
2u on Daniel Berger To Win/Top 8 at +3000. There are no overwhelming must bets on this course. Often there is a golfer that ticks all the boxes. Not hear. Berger for example for what I believe will be a big factor in this course – he is there in all the categories.
However he's not exactly a born winner and doesn't have the greatest Majors history. However I do think he can be a contender here and this course may be a good fit for him.
2u on Patrick Reed To Win/Top 8 at +3500. This was a tricky one and I almost didn't back it. He was initially +4000 and +3500 makes it borderline. However we know he has the ability and decent enough at the Majors. His putting is good and that will be a big factor here.
2u on Brian Harman To Win/Top 8 at +20000. Not a typo. This is going to be a grind of a course I expect and I like Harman there. This price just seems too big for him. He will be nice and rested and as he showed in 2017 – form doesn't matter.
2u on Webb Simpson To Win/Top 8 at +2500. Webb is one of those golfers that stands out on most metrics these days for each course and for good reason. I thought he could have did better at the Tour Championship but I think he can at least get in place money here although not confident as much on the win. I mean by the numbers he should be right up there.
Now the 3 SBT Exclusive Picks:
1u on Xander Schauffele Top 10 Finish at +165. Xander is one of those that will either be right up there or will crash and burn big time. No middle ground it seems. I can't quite back him to win at the +1400 price. Not good enough. Just going with the top 10 finish instead.
1u on Kevin Kisner To Win/Top 8 at +9000. Playing well enough and I think could do well on this course. Doesn't have the Majors history but that's something I won't hold against him.
1u on Chez Reavie To Win/Top 8 at +15000. Reavie is someone I backed for +12500 at the Fed Ex St Jude and he almost got there with a Top 6 finish. I've kept an eye on him since and I think he can perform well here.
Where To Bet the US Open
Register an Account.
All betting odds and props will now be viewable under the event listing.
You can deposit to BetOnline via over 20 different options such as credit card.