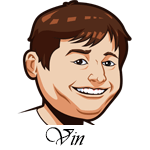 Follow @SBTSportBetting
A 1-3 record last night.
The White Sox came through for us with a 6-2 win over the Twins. Dane Dunning had a very good starts with 7 innings, 7 strikeouts, and only one run allowed. Tim Anderson had a 3-for-5 night with a homerun and he's now hitting .377 on the season.
We took the Mets over the Phillies and that ended up as a 4-1 loss. Whenever you start a tip with "Porcello is not someone I usually trust" you should just stop there. That said, this was a good example of sequencing in hitting and how important it is. The Mets had 11 hits in this one, but only ended up with one run. How? With innings like this: out, out, hit, hit, out. Every time this team got something going, they had two outs.
The Cubs -0.5 in the first five innings didn't come in as they ended up tied after five. The wind definitely helped a bit here as it was blowing out 7MPH to center.
Finally, the Brewers absolutely buried the Cardinals last night as the Brewers offense continues to make no sense. They have now scored 18 runs twice and been no-hit in a seven-day span. This game was so bad that you have to wonder if Flaherty was tipping his pitches as he allowed eight hits and nine runs in just three innings. Christian Yelich had a big game as he continues to dig himself out of his early hole.
A little luck the other way and last night might have went differently. It will work out. We gotta just keep truckin' on.
Best Odds for MLB:
All tips based on the starting pitchers listed. Tips should be considered void if any pitching changes are made unless otherwise noted.
Kansas City Royals at Detroit Tigers Betting Tips:
Royals: Brady Singer 4.66 ERA/4.65 FIP
Tigers: Tarik Skubal 7.27 ERA/5.80 FIP
Singer is coming off his best start of the year with eight innings and eight strikeouts against the Indians. The Indians and Tigers have something in common in that they both stink against right handed pitchers so I can see him having another good game here. He's one guy that has had just a really rough go this season because of the schedule. He pitched five straight starts against the Twins and White Sox, that's just rough. He's probably had this start circled on the schedule for awhile now.
The Royals have been much better against lefties on the season and Skubal is coming off a very rough start. It's a small sample on him, but that last start was pretty ugly with not a lot of control. It could be a short night for him again and I don't trust the Tigers bullpen at all.
A bit of a weird tip, but we listen to the system around here. Go Royals.
Minnesota Twins at Chicago White Sox Betting Tips:
Twins: Jake Odorizzi 8.10 ERA/6.20 FIP
White Sox: Lucas Giolito 3.43 ERA/2.75 FIP
Odorizzi is getting activated from the DL for this one and he had some rough times before he went on the DL. He is a flyball pitcher and the wind is blowing out 10 MPH for this one. The system would like the White Sox no matter what here, but the weather is really going to benefit them.
Giolito is just not getting a ton of respect from the sportsbook here. He has a 12.23 K/9 rate and has done a good job of keeping the ball in the park this season. The wind is going to be a factor in this one, but Gio misses enough bats that I'm okay backing him. Any other pitcher and I'd probably stay away.
San Francisco Giants at Seattle Mariners Betting Tips:
Giants: Drew Smyly 2.92 ERA/2.39 FIP
Mariners: Ljay Newsome 3.24 ERA/4.64 FIP
This game moved from Seattle to San Francisco due to air quality, but the Mariners will still bat last. The Giants made a slight switch as Drew Smyly will start this one. The good news is that he is still a lefty and the Mariners absolutely stink against lefties. He also has a much better strikeout rate than Tyler Anderson, yesterday's presumed starter. He's only went four innings in his last two appearance so we will likely need some help here.
We don't have much of a sample on Newsome, but he's not a strikeout guy and he's been pitching to contact. He allowed homeruns in two out of three appearances this season and the Giants are really hitting the ball well of late as the drive towards the playoffs. I don't expect him to go deep in this one and I absolutely don't trust this Mariners bullpen.
The Giants should hit today. It's up to Smyly and company to just be decent.
Best Sportsbook To Bet MLB:
Register an Account.
All betting odds and props will now be viewable under the event listing.
You can deposit to BetOnline via over 20 different options such as credit card.
Follow @SBTSportBetting