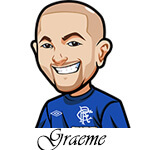 Follow @SBTSportBetting
Hi all,
Well it was an excellent start to the NFL season.
We went 1-0 with the Thursday Night game, followed that up with a 5-1 in the early games on Sunday. It would have been 6-0 if the Lions hadn't dropped that easy TD pass right at the end. My 6 team parlay was not happy with that.
We then went 3-2 in the later games.
Only losses there were Kittle to get a TD, and then Cowboys -2. I don't like the Cowboys but man they got screwed on that Gallup OPI call.
Anyway a 9-3 start to the season with one loss being a player prop? I'll take it.
Before I get into the Monday Night games – something new at SBT we are adding is a social blocker. We do a ton of work on this site and it's all free and one thing we'd love is people sharing our free sports tips.
Unfortunately that doesn't happen naturally at all so we're going to be hiding some content behind social blocking. Sorry about that. Note depending on your web browser, if you go with the follow option you may have to click it again.
NFL 2020 Week 1: Monday Night Football Betting Tips:
Steelers vs Giants Betting Tips:
The Pittsburgh Steelers are 6 point favourites going into this one. The big question is of course how Big Ben is going to be feeling and playing after a year out and no real practise games.
Some interesting changes in the team as well and not ones for the better. However the Giants last year were horrible. It's tough with no pre-season to go on but one thing you can't really do is just base it all on last season.
Steelers will probably focus on the running game more. Which means James Conner will no doubt be injured by the 2nd quarter. Sad but true.
Big and tough game for Saquon Barkley and I don't think he will get many on the board unless the Steelers D has really regressed. It's a big year for him though and he can be a big play guy.
Last year, the Steelers defense was excellent against QBs and so that will be an issue for Danny Dimes. Also against WRs.
With all of that plus wondering if Ben has lost a step, and the fact that they should probably focus more on the running game – I'll go with 1u on Under 45pts. There are just too many questions about the offense of both teams.
Titans vs Broncos Betting Tips:
The Titans are 3 point underdogs in this one. Such a small line due to many thinking the Titans and especially Ryan Tannehill in 2019 was a fluke.
Broncos of course have a hell of a defensive front and that will be scary for Tannehill. Look at how often he got sacked last year on dropbacks and this Broncos defense could hurt him bad. In saying that Von Miller being out is a big loss.
Titans getting Clowny is awesome. Broncos have a lot of new people in the offense and will be interesting seeing how they do this season. There will be a lot of hype for Henry although the Broncos were a tough team for RBs last year.
I'm good with not writing the Titans off as a fluke. 1u on Titans -3. Similar to betting against the Bucs yesterday – don't go with the mainstream opinion quite yet. Titans really looked like they belonged last season. And if this new look Broncos offense does the business – well good for them.
Follow @SBTSportBetting