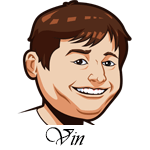 A 1-2 record on Saturday.
Football was the focus yesterday and we started off with a great 9-3 start. Graeme is back with tips for Monday Night Football as we look to finish our first week strong.
The Braves/Nationals game on Saturday ended up being a lot closer than we bargained for, but Ian Anderson came up big for us in the 2-1 win. He threw seven inning with nine strikeouts and only allowed one hit.
We took the loss with the Mets -0.5 over the Blue Jays in the first five innings. Robbie Ray put up one of his better starts of the year. It was only his third start of the year allowing two walks or less. If he can do that, he's pretty good. He just doesn't usually do that.
Our other loss was the under on the first 5 of the Dodgers/Astros. We took the under of 5.5 and after four innings we were at 5 runs. Then this happened: Fly out, strikeout, walk, wild pitch, single. That's baseball, but man… luck stinks sometimes.
A weak end to a great week. Let's get it back going today.
One tip I want to mention that I am not making is the Brewers who look good in Game 2 of their doubleheader against the Cardinals. They are -225 and this would normally be a time when I took a runline or maybe a five-inning line, but the runline is still -1.5 even though it is only a 7-inning game. What's up with that? The 5-inning line is kind of pricey so I'll just be going to with two picks tonight.
Let's go.
Best Odds for MLB:
All tips based on the starting pitchers listed. Tips should be considered void if any pitching changes are made unless otherwise noted.
Philadelphia Phillies at Miami Marlins Betting Tips:
Phillies: Vince Velasquez 5.85 ERA/4.86 FIP
Marlins: Pablo Lopez 4.50 ERA/3.16 FIP
You know what you are getting with Velasquez. The strikeouts are awesome, but they come with a lot of walks and a high 1.8 HR/9 rate. He's been a bit unlucky with a high BABIP and a high HR/FB rate, but he's still the same pitcher. The numbers might not be that extreme and that probably won't be today. This is who he is though and the Marlins should be able to do a bit against him.
Pablo Lopez has been strong for the Marlins thus far this season. He's got a strong 9 K/9 rate and has done a good ball of keeping the ball on the ground and avoiding the homerun. That is important against an offense like this one. Lopez has been unlucky in his own right with a high BABIP and low left on base percentage. I think he can have a solid start here against a Phillies offense that is only average against righties.
I do not trust either one of these bullpens at all so going five innings here.
Bet Marlins -0.5 (-105) First 5 Innings
Atlanta Braves at Baltimore Orioles Betting Tips:
Braves: Touki Toussaint 7.89 ERA/6.12 FIP
Orioles: Jorge Lopez 6.38 ERA/4.50 FIP
Toussaint has a similar profile as Vince Velasquez. The strikeouts are amazing, but everything else is bad. Huge walks, a high HR/9 rate, and a terrible groundball rate. The Orioles offense is one of the best at hitting the ball in the air and they should get plenty of opportunities to do that today.
Jorge Lopez has a terrible left on base percentage, but at the same time he's nothing to get excited for. He's pretty average across the board and is running a high exit velocity on his batted balls with an average of 91.5. He's allowed three or more runs in two of his past five starts and faces a Braves offense that has been crushing everyone of late.
Best Sportsbook To Bet MLB:
Register an Account.
All betting odds and props will now be viewable under the event listing.
You can deposit to BetOnline via over 20 different options such as credit card.