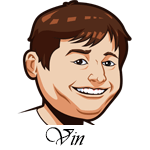 Follow @SBTSportBetting
A 4-0 record yesterday brings us to 9-1 in the playoffs and 11-1 since game 163. We are on fire right now!
We've gone mostly chalk since the playoff started and there has definitely been some luck involved, but the system has been pretty right on thus far and I am feeling really good about it moving forward. I doubt it will be this good the rest of the way, but we just have to take it one day at a time.
Two games today as the National League teams are traveling. Let's get right into the tips.
[text-blocks id="137″ slug="email"]
Cleveland Indians vs. Houston Astros Betting Tips:
The line on this one is set super low again and the system agrees with it. Gerrit Cole and Carlos Carrasco is another outstanding pitching match-up and this should be another battle.
Carlos Carrasco had a great season with a 3.38 ERA/2.94 FIP and nearly eleven strikeouts per nine. He's been even better in his road starts with a 2.96 ERA/2.56 FIP. He's an outstanding pitcher who is a great bet on almost any night.
This isn't almost any night though. The Astros showed how dangerous they were last night and they had a good track record against Carrasco this season. In two starts against him back in May they tagged him for 8 runs in 13.1 innings.
Gerrit Cole had an even better season with a 2.88 ERA/2.70 FIP, 12.4 K/9 and a 2.99 ERA/2.55 FIP in his home starts. He also started against the Indians in May (on the road) and went 7IP, 8K, 3ER.
This one is a lot like yesterday in that I am simply going to pick the better starter. That's Cole. The Indians bullpen didn't look very good yesterday either as Cody Allen allowed two homeruns. The Astros were my favorite in this series and I think they'll get it done again today.
Bet Astros -151
New York Yankees vs. Boston Red Sox Betting Tips:
The Red Sox held on for the win yesterday, but their fans can't feel good about that one. Chris Sale was fine, but the bullpen looked really shaky and nearly let the Yanks take the game. While the Yankees bullpen looked amazing, going six innings of shutout ball with only four hits allowed.
Things could be even worse here as David Price is on the mound. He was a very good pitcher this year, but the Yankees were his kryptonite. He had two starts (at Yankee Stadium) this year where he allowed a combined 12 earned runs. He had another at Fenway that went better, with 2 ER and 5K in six innings.
I'm not sure how much I trust Masahiro Tanaka here either. The Red Sox have a 116 wRC+ against righties on the season and always hit better at home. He's had four starts against the Red Sox this year, including one on September 20th where he allowed five earned runs. He had a 7.58 ERA with six homeruns in those four starts, not great.
This should be both offenses flexing their muscles early in this one and the over seems like a lay-up to me.
Bet Yankees/Red Sox Over 9 Runs
However, I trust the bullpen of the Yankees a lot more in this one. Their bullpen was strong yesterday and if they are given a lead in this one, I like their chances to shut it down. This line is basically a coin flip, but I think the Yankees should be a bigger favorite than that.
Bet Yankees +100
Follow @SBTSportBetting