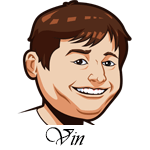 Follow @SBTSportBetting
2-1 last night has us right back on track. Let's keep it going with some more picks today, but first a quick look at what went down yesterday.
I just knew the Mariners were going to hit Eric Skoglund and that's exactly what they did, tagging him for five runs. Jean Segura and Robinson Cano have really started the season with some hot hitting and that has helped this team sustain injuries to half their lineup. It'll be interesting to see how this team fares when they get Nelson Cruz, Ryon Healy and Mike Zunino back.
The Jays game was a lot closer than I expected with Andrew Cashner pitching throwing seven shutout innings with six strikeouts. Sorry I called you Trashner, guy. Aaron Sanchez had the bounceback game I was expecting though as he went eight innings, only allowing one run and Curtis Granderson sealed it in the ninth with a homerun.
The loss was the Rockies against the Padres. Joey Lucchesi really pitched a great game here and the Padres bullpen shut it down. Bryan Shaw allowed three runs in relief while the Rockies didn't get a hit in the final three innings.
[text-blocks id="137″ slug="email"]
Seattle Mariners vs. Kansas City Royals Betting Tips:
There is a pretty big difference between Skoglund and Danny Duffy and as sad as it is to say, there is also a pretty big difference between King Felix and James Paxton. These two are younger, better and should rack up the strikeouts today.
Each team in this series has had a crazy offense game, but I don't see either of them doing that today with these guys on the mound. This should be a more quiet affair and I was honestly shocked to see the total so high. Go under on this one.
Note: This is a 2:15 Eastern time game.
Bet Mariners/Royals Under 9 Runs at: [text-blocks id="87″ slug="bet-mlb"]
Arizona Diamondbacks vs. San Francisco Giants Betting Tips:
Robbie Ray had a rough start on Opening Day, but bounced back big against the Cardinals in his second start. He threw 7 innings and struck out 9 in that one, that's the Robbie Ray we are looking for here today.
He'll be going against Andrew Suarez who is making his MLB debut in this one. He's 25 and a solid prospect, but some projection systems see walks being a problem for him and him being around a 3.94 ERA/4.14 FIP this season. Not terrible, but not great either.
Basically, I am thinking that he struggles due to nerves, high pitch counts and all the other things that can mess with a rookie pitcher in his first start. I also really like Robbie Ray going against a team that is ranked 22nd in OPS thus far this season in a pitcher friendly park. Go with what you know, go with the D-backs.
Note: This is a 3:45 Eastern game.
Bet Arizona -121 at: [text-blocks id="87″ slug="bet-mlb"]
Detroit Tigers vs. Cleveland Indians Betting Tips:
Reminder: Jordan Zimmermann is terrible. The Detroit Tigers offense is the second worst in the league thus far. The Indians are really good.
Carlos Carrasco should absolutely shut things down tonight and the Indians should slug a ton of runs in this one. Not a fair match-up.
Bet Indians -1.5 at: [text-blocks id="87″ slug="bet-mlb"]
New York Mets vs. Miami Marlins Betting Tips:
Yesterday saw these two teams bust out for 14 runs and today could be more of the same.
Zack Wheeler goes for the Mets and he allowed five runs in his first start of the season against the Mets last week. Jarlin Garcia goes for the Marlins and while he has some good stuff, he hasn't started a game at any level since 2016. Even if he does well, I don't expect him to last very long in this one.
I think both of these guys struggle to get deep into the game and that means bullpens, that means hitting. I think both teams will hit the ball hard today and this one will go over this surprisingly low total.
Bet Over 8.5 runs at: [text-blocks id="87″ slug="bet-mlb"]
[text-blocks id="110″ slug="middle-ad"]
Follow @SBTSportBetting