April 12th, 2018 Betting Tips: MLB, NHL Playoffs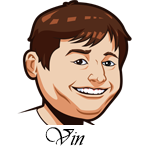 By
The NBA season ended last night and the NHL playoffs began. This is the best time of year for sports and there is always more going on than you can possibly watch.
Last night was a fun one in hockey as the Las Vegas Golden Knights played their first ever playoff game. This was unlike any game you've ever seen as the pre-game festivities were more like a Cirque du Soleil show than what you usually see at a hockey game. The Knights won their first game and this team might just be for real. This is uncharted territory for an expansion team.
One team that is still waiting to play their first playoff game is the Philadelphia Flyers. These guys lost 7-0 to the Penguins last night. That is not playoff hockey and if things don't turn around, this could be an early exit for them.
In basketball, there was a really exciting overtime game between the Wolves and Nuggets that ended up with the Wolves winning the 8th seed in the playoffs for the first time since the Kevin Garnett days. The playoffs start Saturday and then sports will get even crazier.
There's a lot of games again tonight so let's get right into our tips.
#1 Sportsbook Online for Americans

Good deposit bonus, lot of unique bets & props. Excellent mobile & live betting.
MLB Betting Tips:
The Angels have been one of the most exciting teams in all of baseball to start the season. Shohei Ohtani has been as advertised and the best player in baseball is still Mike Trout. I love their match-up against the Royals with the winds blowing out tonight. Ian Kennedy has had a couple of good starts, but I think he's due for a blow-up and this is just the match-up for it. The Angels -138 are a great play here.
My favorite pitching match-up of the evening is Trevor Bauer and Michael Fulmer doing battle in Cleveland tonight. Both of these pitchers have the ability to go deep into games with a low score. This is a good place to grab the under 8.5 runs.
One more game I'm looking at is the Twins -1.5 against the White Sox. Lucas Giolito has not looked good in his first two starts while Jose Berrios has looked great. Throw in the amazing Twins offense and this could get ugly.
NHL Playoffs Betting Tips:
I don't get this line on the Capitals. I know they have had struggles in the playoffs, but they deserve a bit more respect than they are getting here. I am just having trouble seeing how the Blue Jackets are going to contain this offense. I like the Capitals to win the series and I like them to win here tonight. Washington -138 in a walk.
There are some real issues going on with the Anaheim Ducks this postseason. They will be without Cam Fowler which is a huge loss and their starting goalie missed the last three starts of the season. I think there are some real injury woes here and the Sharks should be able to capitalize on them. Going with the underdog tonight and the Sharks +135.
#1 Sportsbook Online for Americans

Good deposit bonus, lot of unique bets & props. Excellent mobile & live betting.