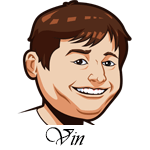 Follow @SBTSportBetting
A 3-1 run last night and our hot streak continues! We are now up to 20-15-1 on the season. This has been a fun run thus far, but there is a ton of baseball left. This league is always changing so you have to keep up on it.
The Royals and Mariners going under was our first win of the day. There were a couple of really scary moments in this one that had me worried. The Royals with the bases loaded, that crazy wind blowing out or the Mariners early scoring run, but the pitchers (especially James Paxton) did what I thought they would do and this one went under.
Our second pick was the Diamondbacks over the Giants. We liked rookie Andrew Suarez to struggle in his first start and that's exactly what he did, allowing four runs. Robbie Ray struggled a bit, but the bullpen really showed up and shut the Giants down. The additional three runs given up by Sam Dyson also helped.
We also had the Indians over the Tigers -1.5, which was an easy win. The Indians scored four in the fourth and that was all Carlos Carrasco needed, as he pitched a complete game of 1-run ball.
The lone loss was the Mets/Marlins over as Zack Wheeler pitched an absolute gem and the Mets won 4-1.
On to the next day!
[text-blocks id="137″ slug="email"]
Detroit Tigers vs. Cleveland Indians Betting Tips:
I think Trevor Bauer is a weirdo, but I really do believe that there is an outstanding pitcher buried somewhere in there. If this guy ever puts it all together, the Indians could be even more scary than they are now. He gets a good match-up today against this Tigers offense and if he's able to keep his pitch count down, this could be a big one for him.
He goes against Michael Fulmer who had some struggles against the Indians in 2016, but only faced them once in 2017 when he went six innings and gave up two runs. A performance along those lines is what I'm looking for here.
I think these two pitchers will perform better than the total they were set with and I like the under in this one.
Bet Indians/Tigers Under 8.5 Runs at: [text-blocks id="87″ slug="bet-mlb"]
Chicago White Sox vs. Minnesota Twins Betting Tips:
This is a pitching match-up of two prospects going on opposite paths early in their career. For the White Sox, it's Lucas Giolito who has really struggled. He has a 6.17 ERA/5.02 FIP in two starts this year and draws a really dangerous Twins offense tonight. For the Twins, it's Jose Berrios who had a solid rookie season last year and is following it up with a better second season. He has a 3.29 ERA/2.32 FIP with 8.6 K/9 and has really been keeping his walks down.
Throw in that the Twins offense is just that much better than the White Sox and my choice here is rather easy. Let's lay the runs for Minnesota tonight.
Bet Twins -1.5 at: [text-blocks id="87″ slug="bet-mlb"]
Los Angeles Angels vs. Kansas City Royals Betting Tips:
The winds will be blowing out for this one and the Angels are on fire right now. Shohei Ohtani should be in the lineup and things could get exciting. I like the Angels to hit Ian Kennedy hard in this one. He's had a good first two starts, but if you look at his past three seasons that won't last. I think he gets rocked today and the Angels grab the win.
Bet Angels -138 at: [text-blocks id="87″ slug="bet-mlb"]
[text-blocks id="110″ slug="middle-ad"]
Follow @SBTSportBetting