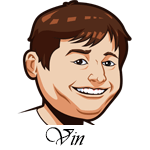 Follow @SBTSportBetting
A 2-1 night last night.
The Tigers defense didn't do Michael Fulmer any favors, but I'm not sure it would've mattered. He got rocked by the Indians and they took that game over on their own. That was our first game, but thankfully it was our only loss of the night. This Tigers team is pretty helpless right now and we might need to roll against them for awhile.
The Twins got a great start from Jose Berrios as he threw 7 innings of shutout ball with 11 strikeouts, allowing three hits and zero walks. I said in my Cy Young Award preview that if he would be able to keep the walks down that he could be a real contender. Thus far he is and he has to be considered one of the favorites. It's really early, but you have to like what you're seeing from this kid right now.
We went with the Angels over the Royals with the wind in our last game of the night and this one was just a slaughter. Shohei Ohtani hit a bases loaded triple and Mike Trout hit his fifth homer of the season to lead the Angels to their fifth straight win.
It's the weekend which means new series and new match-ups. We have some good ones this weekend and some good spots to bet. Today is one of those days that it was really hard to nail down as I liked most of the games. Let's get into the ones I narrowed down as the best of the day.
[text-blocks id="137″ slug="email"]
Milwaukee Brewers vs. New York Mets Betting Tips:
I feel crazy going against the 10-1 Mets, but that's exactly what I am going to do tonight. The Brewers lineup is set up well to hit lefties. Ryan Braun, Domingo Santana and Lorenzo Cain will be atop the lineup and I wouldn't be surprised to see Jesus Aguillar grab a start here. There could be homeruns and Steven Matz gave up 1.6 HR/9 last season and has given up two in two starts this season. The winds will be blowing out to left about 15 MPH in this one.
On top of that, I really like Zach Davies for a bounce back start here. His strikeout numbers have been awesome through two starts and his WHIP is right in line with his career. I think he'll do well today and the Brewers will hit Matz.
Bet Brewers +116 at: [text-blocks id="87″ slug="bet-mlb"]
New York Yankees vs. Detroit Tigers Betting Tips:
The Tigers have been one of the worst hitting teams in the league and the Yankees have, surprisingly, not been the best overall. They are currently 10th, but check those stats again on Monday. They have three games against the Tigers and this one could get ugly. Jordan Montgomery pitches for the Tigers while Mike Fiers starts for the Tigers. The soft tossing Fiers threw six shutout innings in his debut, but you have to think someone is going to catch up to one of his slow fastballs. He has a 5.52 ERA career against the Bronx Bombers and I see that number going up today.
The Tigers are terrible, the Yankees are great. Don't overthink it. Lay the runs.
Bet Yankees -1.5 at: [text-blocks id="87″ slug="bet-mlb"]
Toronto Blue Jays vs. Cleveland Indians Betting Tips:
I am a big fan of Mike Clevinger this season. I think he might be yet another great starter for the Indians and he's shown it early. He's 1-0 with a 0.71 ERA/2.56 FIP through two starts. He's been hitting his spots well early and is going against a Blue Jays offense that is pretty average against righties.
He'll go against Marcus Stroman who I have to think is going to bounceback here. The Indians have been a pretty bad hitting team early, ranking near the bottom of the league in most categories and Stroman is due. He's had some bad luck with his left on base percentage and his walks have been too high, but everything else is right with his career numbers. I think he'll put up a good start today.
I like both these pitchers and I think this one is a nice under play.
Bet Under 9 Runs at: [text-blocks id="87″ slug="bet-mlb"]
Baltimore Orioles vs. Boston Red Sox Betting Tips:
Eduardo Rodriguez is a pitcher that a lot of people are expecting great things from this season. He only had the one bad game to start the year and a better showing is nearly guaranteed here. The Orioles have done well against lefties, but Rodriguez will be the best one they've seen yet.
Chris Tillman is terrible. The Red Sox offense is firing on all cylinders right now. Simple, done. Lay the runs.
Bet Red Sox -1.5 at: [text-blocks id="87″ slug="bet-mlb"]
[text-blocks id="110″ slug="middle-ad"]
Follow @SBTSportBetting