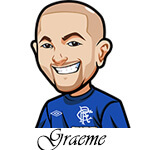 Follow @SBTSportBetting
Sunday, April 14th sees a good amount of Serie A games taking place.
The battle for the Champions League spots continues to go on. Two spots are locked up but the other two spots are still open with 6 teams – maybe 7 if Sampdoria can get their act together – and it's going to be an interesting last quarter.
Relegation wise, Frosinone have suddenly declared themselves 'not dead yet' and look to add to their wins as they host Inter Milan. It's still anyones game down there too.
Other than Chievo. Chievo are gubbed.
Sunday will be a busy sports day with The Masters, and NHL and NBA Playoffs plus the big games in the EPL but I know I'm going to make some time for some Serie A action.
Let's get to it:
Sampdoria vs Genoa Betting Tips:
Sampdoria are trying to get back on track after two tough losses against Roma and Torino as they hope to grab at least a Europa League spot.
Their home form has been inconsistent but they've still been able to pick up some solid wins here and they go into this derby game knowing Genoa have a lot of issues.
Genoa aren't safe from relegation but they struggle away. While they picked up that 2-0 win over Juventus recently that was a rare highlight in what has been a dismal time for the team.
Sampdoria have had some struggles lately on the offensive front but you've got to think they put at least one past Genoa here. They've also got a solid enough defence and I think can probably bag a couple. I'd be surprised if Quagliarella doesn't get on the scoresheet.
(Odds on this page are correct as of 2019/04/13 7:22:06 AM EST but are subject to change)

Torino vs Cagliari Betting Tips:
Getting a nice price on Torino for this one due to Cagliari's recent surge.
Torino are currently 8th in Serie A as of this writing and are battling for a Champions League spot. They're also battling for a Europa League spot and they've been fighting hard in their games. They recently were able to secure tight away draws at Parma and Fiorentina and got a solid 2-1 win over Sampdoria at home.
They had a surprising loss at home to Bologna but they still fought hard in that game.
Cagliari are just dismal away. They did win recently against Chievo but man who doesn't? True, Cagliari at home have had a burst of form lately with wins over Inter Milan and Fiorentina and have made themselves safe from relegation – but I just think Torino won't take them lightly.
Torino boast one of the best defences in the league, are also on form with the 2nd best record along with Cagliari after the last 8, and surely won't take them lightly. Cagliari have one of the worst away records and it'd be a surprise if Torino don't win this one comfortably.
(Odds on this page are correct as of 2019/04/13 7:22:06 AM EST but are subject to change)

Follow @SBTSportBetting