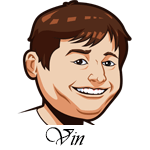 Follow @SBTSportBetting
A 2-1 record last night.
The Yankees got one of the worst starts of Masahiro Tanaka's career yesterday and were blown out by the Marlins. I don't mean this as a knock on anyone, but I got a lot of compliments and agreement with this pick and I should've known something was amiss. I'd still bet this game ten times out of ten, but sometimes when everyone agrees on a play that spells bad news. Call it betting karma.
The Cubs and Reds game went over 7.5 for a win for us, but it wasn't without drama. I had just about written this one off until the teams combined for five runs in the 8th inning. The Cardinals definitely missed some opportunities in this one as Tyler Chatwood allowed SEVEN walks, but just one hit in 4.2 innings. We'll have to keep our eye on him going forward.
Our easy win of the night was the Indians and Corey Kluber in Puerto Rico. Francisco Lindor hit a homerun in this one that made the crowd absolutely crazy. Lindor grew up about 20 miles away and this homecoming was huge for him. Just an awesome moment.
[text-blocks id="137″ slug="email"]
Cincinnati Reds vs. Milwaukee Brewers Betting Tips:
I am giving Zach Davies one more go here. The Reds offense is a good match-up for him and I expect the Brewers to give him the kind of run support he needs. Eric Thames went deep last night and the team gets Christian Yelich back for this one. Those two are key when going against right handed pitchers. Tyler Mahle has a 5.30 FIP and has allowed four homeruns in three starts this year. Milwaukee should win big today and help get Davids back on track
Bet Brewers -1.5 at: [text-blocks id="87″ slug="bet-mlb"]
Texas Rangers vs. Tampa Bay Rays Betting Tips:
The passage of time is sad, I remember when Cole Hamels was a must-bet kind of player for me. That is not the case anymore and I am always looking for opportunities to target him. That's not to say he's not still talented, he's crafty but the stuff just isn't what it once was. He had a 4.20 ERA/4.62 FIP line last year and has a 4.50 ERA/5.96 FIP through four starts this year. He's no longer an ace and is quite hittable.
He goes against young Jake Faria today who has had an up and down season. He allowed one run in his first and third start, but allowed eight in his second. His stats are kind of unreliable because of that start, but I think his true talent level is somewhere in the middle there. Projection systems tagged him around a 4.00 ERA this year, so I'm not too off base there.
The first two games in this series went over the posted total and I expect this one to as well. Bet the over on this early game.
Bet Rays/Rangers Over 7.5 Runs at: [text-blocks id="87″ slug="bet-mlb"]
Cleveland Indians vs. Minnesota Twins Betting Tips:
The Puerto Rico series continues and I see more good things for the Indians in this one. Carlos Carrasco is on the mound and he's 3-0 to start the season, coming off a complete game against the Tigers. While the Twins offense is far better than the Tigers, I still expect him to do well today.
Minnesota sends Jose Berrios and while I am a fan of him, I don't love this match-up for him. He has had two amazing games and one bad one. The quality of offense was a big part of that as he shutout the Orioles and White Sox, while allowing five runs to the Mariners. The Indians are far closer to the Mariners in offensive quality than those other two teams. I don't see this going well for him today.
Bet the Indians -116 at: [text-blocks id="87″ slug="bet-mlb"]
[text-blocks id="110″ slug="middle-ad"]
Follow @SBTSportBetting