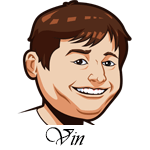 Follow @SBTSportBetting


[Get Exclusive Tips on our Patreon, Ad-Free
]
2-1 last night.
L Warriors -1.5
W Klay Thompson Over 4.5 Three Pointers Made
W De'Aaron Fox Over 37.5 Points/Rebounds/Assists
The Massacre of the Innocents, by Nicolas Poussin, 1625-32 pic.twitter.com/dgZflDuk6k

— ArtButMakeItSports (@ArtButSports) April 18, 2023
Oh, Draymond. You're not supposed to do that.
Might've been a much different game had he managed to stay on the floor, but I'll gladly take the two wins. As for the Warriors, I picked them in six games and that is still very much in play.
The Sixers barely covered the spread in their game thanks to a 52-35 second half, but Harden didn't come through at all. He went 3/13 from the field and 2/8 from three with no free throw attempts. Playoff Harden is back.
Sign up for our Patreon for all the NBA, MLB, golf, and F1 betting tips – it is currently FREE. We have no billing enabled until May 1st so you get the rest of this month, including MLB and NBA Playoffs, without paying a penny to decide whether it's worth keeping or not.
Click here and sign up for our Patreon. Get all our tips emailed to you daily and have a completely ad-free experience. No reason not to give it a try.


Atlanta Hawks at Boston Celtics Betting Tips:
The Hawks got blown out in game one, but thankfully got some good production from their star guard. No, not Trae Young. I'm talking about Dejounte Murray who posted a 24/8/6 line. He was all over the court in that one and actually has some room to go up as he went 0/6 from three in that game. I don't see Trae Young having a great game in this series, but Murray can shine.
We went with Tatum in that game, but it ended up being a Jaylen Brown game. I'm tempted to just go with both on the over PRA as the system likes both, Brown slightly more thanks to game one, as at least one of the two is likely to come in for every game of this series.
Instead, let's go with Derrick White who has seemingly become the third option in this offense. He had a 24/5/7 in 38 minutes in game one while playing outstanding defense. His total is set a bit low considering he nearly did it in points alone in the last game.
Dejounte Murray Over 29.5 Points/Rebounds/Assists
Derrick White Over 24.5 Points/Rebounds/Assists

New York Knicks at Cleveland Cavaliers Betting Tips:
We got a win in the first game of this series by betting on Donovan Mitchell, but I was kicking myself afterward for not backing him up with Brunson. I said this series was going to be about the battles down low and the guards doing all the scoring, and that's pretty much what happened. These specific two guards.
As for the game, I think we need to go under again. The last game was a 101-97 slog and it's hard to see things being much different here without a lot of reliable scorers on either end.
Jalen Brunson Over 24.5 Points
Donovan Mitchell Over 42.5 Points/Rebounds/Assists
Knicks/Cavs Under 214.5
Bet Horse Racing - +£21,565.98 profit on £25/pt staking. Click for more details.
(Advertisement but we have tested it out and have been quite impressed with it)
Los Angeles Clippers at Phoenix Suns Betting Tips:
One thing that really surprised me about game one was the minute load for the Suns. They only really played six players. Paul played 39 minutes, Booker played 43 minutes, and Durant played 45! That does not seem smart given the injury history of this group.
However, it is good for our purposes. Chris Paul looks to be the best bet on the Suns side as he put up a 7/11/10 in game one. The scoring will go up, but his assists should stay right there and he will get rebounds.
I also like Kevin Durant on the PRA. The 45 minutes helps, but his 27/11/9 was quiet by his standards. I know Kawhi guarded him a lot, but he should only go up as the team clearly needs him to be a bigger part of the offense.
Westbrook got all the headlines in game one, but one of the real keys to victory in game one was Ivica Zubac as he absolutely dominated Ayton on the boards, finishing with a 12/15. He averaged 12.6 points, 9.4 rebounds and 1 assist over his last twenty games so it's not like he needs to go that far up from his regular production to hit this.
The Suns should bounce back with a win here, but this amount of points seems crazy. I've mentioned the minute load on the Suns side, but for Phoenix, no one outside of Kawhi and Westbrook played over 36 minutes. They are deeper and that depth has fresh legs. Take the points.
Chris Paul Over 28.5 Points/Rebounds/Assists
Kevin Durant Over 41.5 Points/Rebounds/Assists
Ivica Zubac Over 21.5 Points/Rebounds/Assists
Clippers +8.5


Follow @SBTSportBetting