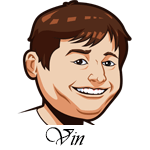 Follow @SBTSportBetting
1-2 last night for our first losing night in awhile. April 6th to be exact.
It all started with the Rangers and Rays over 7.5. This seemed like a good pick, but by the time the lineups dropped I knew we were in trouble. Some real bad players starting in this one and that put us behind the eight ball. It was 4-2 late and we still had a chance, but I'm not sure the Rangers hitters knew that they didn't have to swing at the first pitch. There were a few scoring chances in this one where I was begging for a pinch hitter that never came. Weird game. No wonder these teams aren't going anywhere.
The Brewers grabbed us a big win against the Reds. This one was pretty close as the 2-run homer by Eric Thames was the only scoring, but the Brewers pitching got it done for the shutout. Cincinnati now hasn't scored a run since Monday. Results may vary by your sportsbook, but I got this line at +140 at Bovada so that was a nice win.
The Indians did not beat the Twins, but the game was so crazy I can't even be mad about it. The first run of the game wasn't scored until the 14th inning! The second run of the game was then scored in the bottom of the 14th! The Twins won in the 16th, 2-1! Just a crazy game and I probably should've stayed away.
Let's get things back on track today and right into the tips.
[text-blocks id="137″ slug="email"]
Houston Astros vs. Seattle Mariners Betting Tips:
I want the best for Marco Gonzales, I really do, but facing this Astros offense this afternoon is not what's best for him. He's a lefty with middling stuff facing the lefty killing, best offense in all of baseball. This should not end well for him.
The Astros will send Charlie Morton to the mound and while last season I might have picked the Mariners to hit him, I am not ready to do so this year. His velocity is up across the board and he's sporting a 1.00 ERA/3.11 FIP through three starts with an enormous 12.5 K/9. Higher velocity and career high strikeout rates aren't supposed to happen to guys who are 34, but here we are. Let's just roll with it and lay the runs.
Bet Astros -1.5 at: [text-blocks id="87″ slug="bet-mlb"]
Pittsburgh Pirates vs. Philadelphia Phillies Betting Tips:
I've been waiting to get on the Jameson Taillon train and today seems like a great day to do so. The Phillies offense has been underwhelming of late and Taillon is a killer. He has a 0.89 ERA/2.86 FIP to start the season with a 0.69 WHIP. He is dominating and unhittable right now.
He faces the Phillies who have just a .670 OPS against righties on the season. Jake Arrieta is making his third start of the year here and I am no longer afraid of him as a starter. The 3.38 ERA/4.33 FIP he has through two starts is pretty much who he is now. Not terrible, but not unhittable. Let's go Pirates.
Bet Pirates -107 at: [text-blocks id="87″ slug="bet-mlb"]
Miami Marlins vs. Milwaukee Brewers Betting Tips:
Don't mess with a good thing, right? Picking against the Marlins has been very profitable and the Brewers grabbed us a win yesterday. Dillon Peters has had a rough go in his first three starts of the season and I see that continuing here. He's had a 6.75 ERA/6.11 FIP through three starts and the Brewers offense should be able to hit the lefty.
Chase Anderson is the Brewers best starter and I think he'll do just fine against this Triple-A team today. Lay the runs! The Marlins stink.
Bet Brewers -1.5 at: [text-blocks id="87″ slug="bet-mlb"]
[text-blocks id="110″ slug="middle-ad"]
Follow @SBTSportBetting