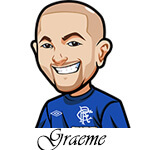 Follow @SBTSportBetting
It's Wednesday and that means our weekly dose of golf.
What a fun week it was last week with the golf. It was extremely intense in the RBC Heritage as our 50/1 pick of Luke Donald was leading at the end of round 3.
He had a very, very solid last day but ended up at par. He still would have won if not for Grace, who had a tremendous -5 day and won the tournament.
We still got a decent enough payout though: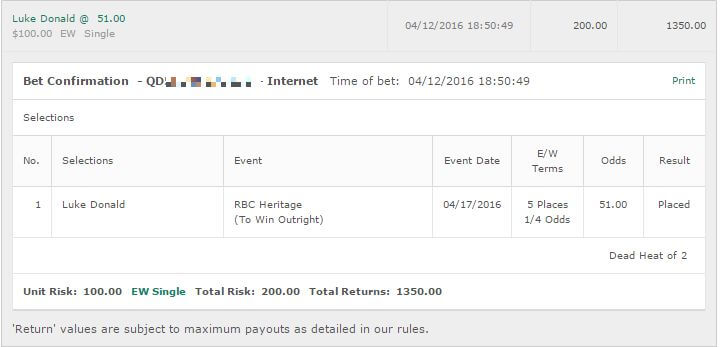 Let's hope it continues this week.
Let's get to this weeks golf betting tips:
Golf Picks:
There's only two tournaments we are covering this week.
The first is the Valero Texas Open on the PGA Tour. Our first bet is the in-form Matt Kuchar. The Valero Texas Open is being played later in the year this year and the winds looked to have died down a bit. That is good news for Kuchar who had a 4th place on this course just a couple of years ago and with the lack of wind, his skill should win out.
We're also taking Phil Mickelson to bounce back from his poor Masters performance and do the business here. He's not really had any solid course form but we think he's going to be motivated for this one and that he should be able to perform well on this course. It's all about big Phil having a good first day really.
We're also on the 150/1 Andrew Loupe. The guy is erratic but if he can remain consistent then he could just surprise us all. A lot of it is about that price though – we're really betting that he remains consistent through all 4 rounds. He's played some solid golf this year so let's hope so.
Then in the Shenzhen International – well, only the one tip to be honest which is Tommy Fleetwood.
It's a messy field and one we don't want to risk for the most part. Fleetwood is one of the top golfers in the tournament and has played well on this course. He's not coming into it on the best of form but this is as good a time as any to turn things around.
Notable Upcoming Bets:
NHL Playoff Picks:
Take the Washington Capitals in regulation tonight. Hopefully they'll decimate the Flyers and send the scumbag Philly fans back home for another season.
I also really like the Dallas Stars to wake up and take their series to 3-1. Over confidence looked to be the factor in Game 3 as they had that one wrapped up and then momentum shifted. However this is one game where I think skill will rise above all and that the Stars will win. It's a huge game for the Stars because if they lose here then it surely goes to a Game 7.
Have to go with Panthers to win in what should be a fascinating game. The Panthers have been excellent in all 3 games but the Islanders have a lot of fight to them. This series just seems destined to go 7 games.
Notable Upcoming Bets:
Follow @SBTSportBetting