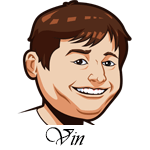 Follow @SBTSportBetting
A 2-1 record last night.
The Houston and Milwaukee wins were nice. Big, hefty blowouts that we didn't have to worry about.
Marco Gonzales did better than I expected him to do in the match-up against the Astros, giving up three runs (all unearned), but it didn't really matter as Charlie Morton completely shutdown the Mariners. Seven innings, eight strikeouts and zero earned runs. What a start to the season for him. The Mariners bullpen gave up another six runs and Houston rolled. Best team in baseball and I don't think it's close.
For Milwaukee, I called the homerun by Ryan Braun and he didn't even start. Domingo Santana continues to struggle, but Lorenzo Cain and Jesus Aguillar had great games and the Brewers rolled. This one went right on the script as the Brewers chased Dillon Peters who gave way to Odrisamer Despaigne, another pitcher that the hitters salivate for. Chase Anderson didn't have a great game, allowing two homers to former Brewer Lewis Brinson, but he grabbed the win as the Brewers rolled.
The one loss was a complete misfire on my part. I've been watching Jameson Taillon put up good starts and figured last night would be a good time to grab him. I was very, very wrong. He was chased by the second inning. Whoops.
Good to get back on the board with some wins though. Let's keep it going into the weekend.
[text-blocks id="137″ slug="email"]
Toronto Blue Jays vs. New York Yankees Betting Tips:
A flyball pitcher is pitching at Yankee Stadium against that offense today. Sorry, Marco Estrada this is not your day. For his career, Estrada has a 1.36 HR/9 and 48% of batted balls are flyballs. That is not a good look when you are playing this uber-powerful Yankees offense with the short porches on both sides of the field. Expect a homerun from one or more of Gary Sanchez, Aaron Judge and Giancarlo Stanton.
Sonny Gray is a solid pitcher and he should get the job done today. The Jays offense is significantly weaker without Josh Donaldson and I forsee a big Yankees win today. Lay the runs.
Bet Yankees -1.5 at: [text-blocks id="87″ slug="bet-mlb"]
New York Mets vs. Atlanta Braves Betting Tips:
Noah Syndergaard is one the mound today and as always you should expect some big strikeout numbers for him and an early exit. He averages about 5.3 inning per start and that's about who he is right now. He draws a nice match-up against the Braves offense today.
On the other end is Sean Newcomb, who I am not a fan of. He has a 4.02 ERA/3.52 FIP on the early season and walks have really been a problem early. Through three starts, he has almost five walks per nine innings and he could find himself in trouble early.
I'm not trusting that Mets bullpen right now so let's go with the first five on this one.
Bet Mets -0.5 First Five Innings at: [text-blocks id="87″ slug="bet-mlb"]
Cincinnati Reds vs. St. Louis Cardinals Betting Tips:
The Reds haven't scored since Monday and fired their manager and pitching coach this week. While that's a move, it won't have much effect on the field. This team does not have the talent to compete and are really in a bad place right now. Brandon Finnegan is on the mound today and he got killed in his first start of the year. He faces a tough Cardinals offense today and I don't love his chances.
Michael Wacha goes for the Cards and I expect him to get back on track against this struggling offense. This isn't the NFL where firing a coach can get the team to win, this is baseball. Talent matters and the Reds don't have it right now. Lay the runs!
Bet Cardinals -1.5 at: [text-blocks id="87″ slug="bet-mlb"]
[text-blocks id="110″ slug="middle-ad"]
Follow @SBTSportBetting