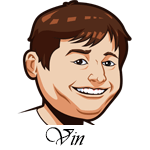 Follow @SBTSportBetting
A 2-1 record night.
The Mets first five innings was definitely the right play yesterday as they held a 3-2 lead going into the fifth, but allowed them to tie in the sixth. This game ended up going 12 innings and the Mets eventually won, but extra innings is a coinflip so the early play was definitely the right one there.
Cincinnati continued to struggle to our benefit as the Cardinals grabbed the win for us last night. The final score was 4-2, but I really feel like the Cards left a lot of runs on the table in this one. The Cardinals finished with eleven runners left on base so there were definitely opportunities. A win is a win, but this one shouldn't have been such a nail biter in the ninth.
Our loss was the Yankees over the Jays. In retrospect, I probably should've just went with the over in this one. The Yankees hit Marco Estrada hard, but the Toronto offense has been on fire of late and really got to Sonny Gray. The bullpen for New York continues to disappoint and the Jays won 8-5.
[text-blocks id="137″ slug="email"]
Cleveland Indians vs. Baltimore Orioles Betting Tips:
Mike Clevinger is one of my favorite value starters in baseball. He's not as flashy as some of his teammates, but the guy just continues to rack up stats. He has a 2.70 ERA/3.32 FIP on the season and draws the Orioles on the road today. I think he'll do well, but he is not the reason I am loving this game.
That reason is Chris Tillman. He had a 7.84 ERA/6.93 FIP last season and has started with a 11.91 ERA/7.82 FIP through three starts this season. He is one of the worst starters in baseball and I love betting against him every chance I get. The Indians offense is tough and this is a great spot to lay the runs. Let's do it.
Bet Indians -1.5 at: [text-blocks id="87″ slug="bet-mlb"]
Houston Astros vs. Chicago White Sox Betting Tips:
Lucas Giolito hopefully has a long career ahead of him, but this match-up against the Astros is no good for him. He's had 5.50 ERA/4.82 FIP through three starts and now faces one of the toughest offenses in baseball.
He goes against Dallas Keuchel who is coming off his best start of the season against Seattle. The Mariners offense is a LOT BETTER than the White Sox offense and I like the Astros to roll in this one. Lay the runs.
Bet Astros -1.5 at: [text-blocks id="87″ slug="bet-mlb"]
Seattle Mariners vs. Texas Rangers Betting Tips:
Speaking of the Mariners, I love James Paxton in this match-up against the Rangers. Texas has just a .634 OPS on the year against lefties and Paxton is one of the top left handed starters in the American League.
Bartolo Colon goes for the Rangers and while he has looked good early this year, I'm not buying it. He's a crafty pitcher, sure, and can fool guys with his pitch mix, but he is not a 1.45 ERA/2.34 FIP pitcher. He is very hittable and finished last season with a 6.48 ERA/5.21 FIP. That's who he is and I think the Mariners bats will remind him of that today. Lay the runs!
Bet Mariners -1.5 at: [text-blocks id="87″ slug="bet-mlb"]
Chicago Cubs vs. Colorado Rockies Betting Tips:
Coors Field, baby!
Yu Darvish has had a rough first couple of starts for the Cubs and now he pitches in the top hitters park in the land. Tyler Anderson has a career 4.14 FIP and has really struggled with walks early. I think the Coors effect goes wild and the over is hit in this one. It's rare to see a total this low at Coors Field so I'm jumping on it.
Bet Cubs/Rockies Over 9 runs at: [text-blocks id="87″ slug="bet-mlb"]
[text-blocks id="110″ slug="middle-ad"]
Follow @SBTSportBetting