April 24th, 2018 Betting Tips: NBA Playoffs, MLB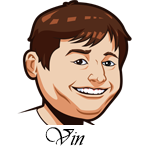 By
Last night we saw the Utah Jazz take control in a major way. They absolutely dominated the Oklahoma City Thunder are now just one game away from winning this series. You have to think that could be Paul George's last game in a Thunder uniform and the future of OKC is in question. Where do they go from here?
Tonight could see two more teams packing their bags for summer as the Warriors and 76ers could both finish their series with wins tonight.
The Warriors should've probably finished the sweep in San Antonio on Sunday and will absolutely finish it here tonight. They play the Pelicans in the next round and they have to be regretting giving them the extra day of rest on them. They need to finish things here tonight.
Miami and Philadelphia has been one of the most fun series of the first round, but the return of Joel Embiid definitely swung things. They have the chance to close it out at home tonight and are a big favorite to do so. With the Cavs struggles against the Pacers and the Celtics injuries, this team is a getting a lot of Finals buzz right now and it's easy to see why. They need to finish things here first.
A lot of great NBA action on the slate tonight as well as a full night of MLB. Let's get into the tips.
#1 Sportsbook Online for Americans

Good deposit bonus, lot of unique bets & props. Excellent mobile & live betting.
MLB Betting Tips:
I like the Mariners -1.5 against the White Sox today. Seattle is coming off two straight losses in which the pitching failed them. They have scored runs in both games and the offense is red hot right now. They match-up against Chris Volstad who is making his first start of the season. I don't expect him to do very well against this offense and Marco Gonzales is due for some positive regression here.
The Athletics -112 are another amazing offense, second in MLB to the Yankees thus far. They get the gift of facing the Rangers in Texas. The Rangers are 8-16 this year and send Cole Hamels to the mound who has given up 7 homeruns in five games this year. This is not the right team to have homer problems against.
NBA Betting Tips:
The Game 1 and 2 Bucks and the Game 3 and 4 Bucks are two completely different teams. The first two games were Giannis Antetokounmpo and a bunch of guys in uniforms who didn't really help. The games in Milwaukee saw a real team with huge contributions from Thon Makers, Jabari Parker and Khris Middleton. I think we see more of that second team in this one. The Celtics are who they are. They play hard and smart, but the Bucks have the talent advantage in this series and I like them to put themselves in position to win this series at home. Bucks +4 is the play.
Miami and Philadelphia has been my favorite series of the playoffs thus far. These games have been physical and we've seen some amazing things from Ben Simmons and Joel Embiid thus far. I think the Sixers win tonight, but I expect it to be a war. The pace should be high and I like the over 215 points in this one.
#1 Sportsbook Online for Americans

Good deposit bonus, lot of unique bets & props. Excellent mobile & live betting.