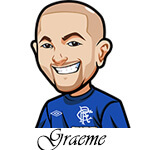 (Picture credit: PGA.com)
Last week almost felt refreshing – it was the first week of the year where we had nothing of interest on the final two rounds of both tournaments.
I mean hell it sucked – the picks didn't work out – but it was a nice reminder of how tough golf can be sometimes. We went on that huge winning streak earlier in the year and have almost had a cash every single week since the tips returned in January.
It was nice to get a good butt kicking in terms of the picks. Always helps me to regain focus too I find and spur me on for the next tournaments.
This week we've got the Volvo China Open, the Zurich Classic and the LPGA Mediheal Championship. I'm only tipping the Volvo China Open this week.
Volvo China Open 2018 Betting Tips:
Based on past tournaments, GIR and scrambling are generally big factors here. Looking through everything I also feel par 4 performance is a big one here.
Alexander Levy: So I ran all my data simulations WITHOUT factoring in event form or current form as I always do and Levy was right up there at the top. No surprise that the two time winner who is coming off a tournament win is at the top of it I guess.
Levy is a tricky player though in the sense that he's rarely at the top for long. He'll be a very hot/cold golfer so him coming in off that win probably isn't the best thing ha. Look at most of his performances coming off a top place and he drops a fair bit.
I still gotta back the guy but I'm gonna advise strong caution and go with 1/4 unit to win. Honestly one of those where I feel it's a bad bet but based on the number crunching I gotta go with it.
Sihwan Kim: Only played here the once and missed the cut but in solid form and his stats match up well with this course. 1/4 unit to win & E/W
Mikko Ilonen: A real streaky golfer which is good news based on his 3rd place finish last week at the Trophee Hassan. A couple of solid performances here in years past. 1/4 unit to win & E/W.
If I do 1/8u plays the above two would be 1/8u. Really need to consider implementing that here although it may add to confusion.
Seungsu Han: In-form and matches up well with this course as well. 1/4 unit to win & E/W.