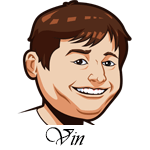 Follow @SBTSportBetting
A 1-1 record last night.
The Mariners won the game, but they only won 1-0 so we lost the bet. Really surprised their offense wasn't able to do more in this game. Maybe they went out on Monday in Chicago? I know that can really take it out of you, that's for sure. Marco Gonzales pitched maybe the best game of his career and got some of that positive regression we were hoping for. Not a win as the bats weren't there for them.
The Athletics grabbed us the win in our other tip although it was a bit closer than I would've liked. The seventh inning was nearly a blown opportunity for the Athletics and showed that this one should've been so much more. Jonathan Lucroy doubled, but got thrown out at third trying to stretch it to a double. The Athletics string together some more baserunners and Jed Lowrie doubles a run in with Matt Joyce moving to third. Then with Khris Davis at-bat, Joyce gets picked off third. That's at least two runs between Lucroy and Joyce. Luckily for us, it didn't matter and we grabbed the 3-2 win.
[text-blocks id="137″ slug="email"]
Seattle Mariners vs. Chicago White Sox Betting Tips:
Can't believe I'm going back to the Mariners here for the fourth straight day, but in baseball you have to forget about yesterday. No looking back, only looking forward and today is forward. Today is a James Shields day. Here's a look at James Shields first four starts of the year:
2018 Pitching Game Log

| Date | Opp | Rslt | IP | H | R | ER | BB | SO |
| --- | --- | --- | --- | --- | --- | --- | --- | --- |
| Mar 29 | KCR | W,14-7 | 6.0 | 5 | 4 | 4 | 1 | 0 |
| Apr 5 | DET | L,7-9 | 5.0 | 8 | 3 | 3 | 1 | 1 |
| Apr 11 | TBR | W,2-1 | 6.1 | 4 | 1 | 1 | 5 | 6 |
| Apr 20 | HOU | L,0-10 | 5.1 | 8 | 7 | 7 | 4 | 4 |
| | | 2-3 | 23.1 | 27 | 16 | 16 | 13 | 11 |
Provided by Baseball-Reference.com: View Original Table
Even the "good' game against the Rays saw him allow five walks and four hits.  The Mariners offense is a lot closer to the Astros than the Royals or Detroit and I expect them to punish him in a similar way this afternoon.
Felix Hernandez goes for the Mariners and outside of his one horrible start against the Giants, he's allowed three runs or less in each start this year. All he needs to do is that and the Mariners offense should do the rest.
Bet Mariners -1.5 at: [text-blocks id="87″ slug="bet-mlb"]
Texas Rangers vs. Oakland Athletics Betting Tips:
Yesterday's game was a bit quieter with the bats than I expected and I see it being much of the same here today. The total on this one is set quite high thanks to some bad early season performance from Kendall Graveman and Doug Fister's veteran status. I like those two to perform well today though.
Doug Fister has reverse splits meaning that despite being a lefty, he does better against right handed hitters. That's Matt Chapman, Khris Davis, Jed Lowrie and Marcus Semien. Matt Olson has been a slow starter thus far and I think Fister could go at least six in this one without too much trouble.
Kendall Graveman has had a rough start to the season with a 10.87 ERA and has allowed 4+ runs in every start this season. The thing is, he's not that bad. His FIP is 6.89 and his xFIP is 4.46. That xFIP is more in line with his career numbers and I expect he'll have some success today. He's been killed with bad luck as well as his batting average on balls in play is a ridiculous .373 and his left on base percentage and HR/FB% are way off career numbers. This is a great place for him to bounce back against an offense with only a .682 OPS this season.
Bet Athletics/Rangers Under 10.5 at: [text-blocks id="87″ slug="bet-mlb"]
Miami Marlins vs. Los Angeles Dodgers Betting Tips:
I feel silly even putting this here, but it feels like a can't lose situation. The odds aren't the greatest (-165), but Clayton Kershaw against this offense is not fair. Trevor Richards has a 6.16 ERA/5.81 FIP on the season and the Dodgers should hit him. LA has really let down in the first two games of this series, but with Kershaw on the mound they should get it done.
Bet Dodgers -1.5 at: [text-blocks id="87″ slug="bet-mlb"]
[text-blocks id="110″ slug="middle-ad"]
Follow @SBTSportBetting