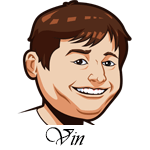 Follow @SBTSportBetting
After four games in the NBA yesterday, we have only one today. You can thank all of the other series being over for the fact that Celtics and Bucks is your only NBA action of the night here.
Game five was an ugly one. Giannis Antetokounmpo only took ten shots, there were bricks all over and the final score was a low one. The Celtics were able to pull out the win thanks to a big first half and have the chance to close things out on the road here. The home team has won every game of this series, but they have all been close and the Celtics have a real chance to close it out tonight.
Last night also saw the Rockets close out the Timberwolves and this one wasn't even close. Looking back on this series, it seems shocking that the Wolves ever won a game. They'll face the winner of the Jazz and Thunder series which is headed to game six after the Thunder's huge comeback win last night. The Jazz will have a chance to close it out at home tomorrow.
We also have a full slate of MLB games so let's just get right into the games for Thursday.
Notable Upcoming Bets:
NBA Betting Tips:
There are a lot of trends I've seen in this Bucks/Celtics series that I don't like. Al Horford has realized that he can get his shot on Giannis any time he wants. Giannis has seen his scoring go down throughout the series with game five being his worst. Eric Bledsoe has attempted to take the game over and ignore the offense, and that has not gone well. The Bucks have all the talent in this series, but the coaching and game planning is just not there. I can't wait to see what this team does next year with a real coach, but tonight I think the Celtics +4 finish things off.
MLB Betting Tips:
There is a great match-up today with the Red Sox taking on the Blue Jays. Boston has been one of the hottest teams in league to start the year and today they have Chris Sale, one of the best pitchers in the AL on the mound. I really think this match-up for the Sox too as Marco Estrada has really struggled early. The Jays don't hit lefties very well and this just feels like a great place to lay the runs. The Red Sox -1.5 is a nice play here.
Lucas Giolito has been killed early in his career and I think he actually still has some room to get hit even harder, if that's possible. He has a 9.00 ERA thus far and that's with a batting average on balls in play that is artificially low. His opponent Jake Junis has had a great start to the year, but he's due for some negative regression as well. A low BABIP, really high left on base percentage and his FIP shows it. This game is a great chance to grab the over 8.5 runs.
Follow @SBTSportBetting