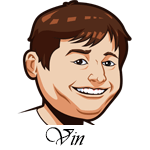 Follow @SBTSportBetting
A 1-2 night yesterday.
What a frustrating day. We started off with the Mariners who had ample opportunities to score in this game. The 2-3-4 hitters Jean Segura, Robinson Cano and Nelson Cruz all did their part in this one, but they got left on base more often than not. The 5-6-7 hitters (Kyle Seager, Mitch Haniger and Ben Gamel) combined for 12 left on base in this one. Throw in a first and second, nobody out situation, where Jean Segura was sleeping on the basepaths and got picked off. The Mariners managed only one in that inning which led to this one not covering. Mariners won 4-3, but laying the runs cost us.
I'm very frustrated with myself for that Dodgers -1.5 pick yesterday as well. I said in the write-up that I felt stupid about it as it was Clayton Kershaw against this Marlins team. I actually only had the two games in yesterday's post and added this one at the last second before posting. I felt stupid because I laid the runs AND paid -165 to bet it. The thing that bothers me is that's not the type of play I'm normally looking for when I write these tips. I'm looking for values and a confluence of events that favor one team, this was not that.
Anyway, Miguel Rojas (6 career homeruns, .331 career slugging percentage) hit a three-run homerun off the best pitcher in baseball and it was a bad play. The offense finally woke up in the 8th and nearly came back, but the bullpen had done too much damage by that point for it to matter.
The Dodgers were were a -390 favorite in this one, about the biggest you'll see during the season. This is the first time the Marlins have won back-to-back games all season. Never forget, the #16 seed upsets the #1 seed all the time in baseball.
We grabbed the win with the under on the Athletics/Rangers game. A cold front gave us a little boost here and both pitchers did well, allowing under 3 runs each. Was nice to end my night on that note after those previous two games.
Time to wipe off the losses of yesterday and move on to today. A couple of games I'm feeling pretty good about tonight.
[text-blocks id="137″ slug="email"]
Atlanta Braves vs. Cincinnati Reds Betting Tips:
The run totals for the first three games in this series: 14, 16 and 9. The total on this one is set at just nine and, yeah, I like the over.
Sean Newcomb's looks solid with a 3.74 ERA/3.40 FIP, but I think his stats are a bit misleading. Take a look at his four starts this year.
2018 Pitching Game Log

| Date | Opp | IP | H | R | ER | BB | SO | HR |
| --- | --- | --- | --- | --- | --- | --- | --- | --- |
| Apr 2 | WSN | 4.1 | 5 | 6 | 5 | 4 | 6 | 1 |
| Apr 8 | COL | 6.0 | 5 | 0 | 0 | 0 | 9 | 0 |
| Apr 14 | CHC | 5.1 | 6 | 3 | 2 | 4 | 7 | 1 |
| Apr 20 | NYM | 6.0 | 6 | 3 | 2 | 3 | 5 | 0 |
| | | 21.2 | 22 | 12 | 9 | 11 | 27 | 2 |
Provided by Baseball-Reference.com: View Original Table

Outside of that game at Colorado (which is impressive in that park, but that was also a weak lineup from the Rockies), he's had at least three walks in each start. That's who he is and that Rockies start is an outlier. The Reds have an .808 OPS against lefties thus far this season and it could be a quick hook for him today.
Homer Bailey has looked good as well with a 3.68 ERA/4.71 FIP, but he's been riding an extremely low BABIP of .227. Considering his career BABIP is .302, that's going to regress.
I like both of these starters to exit early and the runs to pile on.
Bet Reds/Braves Over 9 Runs at: [text-blocks id="87″ slug="bet-mlb"]
Boston Red Sox vs. Toronto Blue Jays Betting Tips:
The Toronto Blue Jays have seemingly cooled down from the hot run they were on. They have the displeasure of facing one fo the best lefties in baseball in Chris Sale tonight. On the season, the Jays have just a .668 OPS against left handed pitchers and Sale is one of the best of them. I don't see this offense faring well against him today.
Marco Estrada has not had a great start to the season as in his first four starts he holds a 5.32 ERA/6.17 FIP. The Red Sox are the top hitting team against right handed pitchers this season with a huge .870 OPS. That won't last forever, but this match-up and Sale on the mound make this a great time to lay the runs.
Bet Boston -1.5 at: [text-blocks id="87″ slug="bet-mlb"]
Chicago White Sox vs. Kansas City Royals Betting Tips:
I was all set to pick the Royals to win this one as I like what Jakob Junis has done this year and I love his slider, but a deeper look into his stats threw up some red flags. He has a 2.03 ERA, but a 4.04 FIP. His BABIP is .169 and his LOB% is 90.4%. Those numbers are just not sustainable and he is due for some regression. The White Sox offense is pretty aggressive and will put lots of ball in play in this one. Some should fall in.
Lucas Giolito has had a nightmare start to the year with a 9.00 ERA/6.37 FIP/8.43 xFIP. The crazy thing is that his BABIP is only .258 and he's only allowed one homerun in twenty innings so there is room for him to get worse. The Royals offense isn't the sexiest one out there, but they should hit today.
I like the Royals to win this one, but I'm betting the over. I can see either pitcher imploding. I can see a 4-4 game in the sixth. I can see the Royals winning 10-0. I can see an over bet cashing.
Bet Royals/White Sox Over 8.5 Runs at: [text-blocks id="87″ slug="bet-mlb"]
[text-blocks id="110″ slug="middle-ad"]
Follow @SBTSportBetting