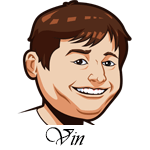 Follow @SBTSportBetting
An 0-1 record last night.
The Yankees jumped out to a 4-0 lead and I was feeling pretty good about this one. Then the wheels came off. Masahiro Tanaka surrendered the lead, with the defense doing him no favors, and it was 6-4. The game was still close, but the bullpen did us no favors. When I talk about the dominant Yankees bullpen, I'm not talking about Joe Harvey and Stephen Tarpley who ended up putting this one out of reach.
We are back to a full schedule today with plenty of good values across the board. I have three picks today, let's get into them.
Detroit Tigers vs. Chicago White Sox Betting Tips:
There isn't much of a sample size on Daniel Norris yet this season as he's only made one start and four appearances. I'm going off his career stats which are a 4.48 ERA/4.45 FIP that matches closely with his projections. The White Sox offense hasn't been great against lefties, but it's been much better than Detroit has.
Which is where the crux of this pick comes from. Carlos Rodon has some huge strikeout numbers early and is posting a 2.89 ERA/2.47 FIP on the year. The Tigers have just a 72 wRC+ with a .631 OPS against left handed pitchers on the year.
Bet White Sox -131
Cleveland Indians vs. Houston Astros Betting Tips:
Corey Kluber is having a rough start to the season. He's posted a 5.88 ERA/4.50 FIP. He's allowed 4 or more runs in three (out of five) starts this season, and has allowed ten earned runs (on four homeruns) over his past two starts. He's going through it right now and now he gets to face one of the best offenses in baseball. The Astros 128 wRC+ is best in baseball. Good luck with that.
Collin McHugh is nothing special with a 4.78 ERA/3.49 FIP this season. He should look like an ace today against this Indians offense though. The team did a rough job of filling the holes around Jose Ramirez and Francisco Lindor this offseason and it has been really bad. They are one of the worst offenses in baseball with a .210/.302/.326 batting line. Ramirez is starting to turn it around and Lindor is back from injury, but that is still really bad. I don't have any faith in them right now.
Bet Astros -113
New York Yankees vs. San Francisco Giants Betting Tips:
This is the third day in a row I have gone with this weakened Yankees team, but today it is very deserved. Why? James Paxton. He's posted his usual great strikeout numbers and has a 3.10 ERA/2.42 FIP on the season. The Giants have just a 67 wRC+ with a .631 OPS on the season. I don't love their chances and hopefully the Yanks use some of their actually good arms tonight as opposed to whatever that was last night.
Madison Bumgarner goes for the Giants and he's been pretty solid with a 3.66 ERA/3.92 FIP. I feel like his numbers are overrating him a bit though. He's allowed five homeruns in five games and he had a start against the Dodgers where he allowed five runs, all unearned. He allowed four earned runs in his last start against the Pirates and the Yankees, even weakened, are a better offense than Pittsburgh.
Bet Yankees -123
Follow @SBTSportBetting