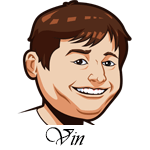 Follow @SBTSportBetting
A 2-1 record last night.
I will say that we were very lucky to escape with this record. The Chicago White Sox fell down 9-2 heading into the bottom of the fifth as Carlos Rodon absolutely did not have it. Then they woke up. Five runs in the bottom of the fifth and they kept clawing away and ended up tied 11-11 heading into extras. Tim Anderson hit a walk-off homerun to win this one. It's often better to be lucky than good.
Bullpens blew it for us in the other direction in the Indians/Astros game. This was a 3-3 game late, but Hector Rondon gave up one to give the Astros the lead and then Josh James put it out of reach with another two in the ninth. I was honestly expecting a bit more offense out of Houston here.
Our final win was the one I felt most confident about heading in. The Yankees built a 5-1 lead heading into the sixth and James Paxton was cruising. He had a bit of trouble in the sixth to make it 5-3, but then the bullpen came in and shut things down. The Yankees had the good sense to use Zack Britton and Adam Ottavino here to shut the Giants down.
I have to write these tips quickly because I'm on the way to see Avengers: Endgame this morning. Let's get into them.
Note: The system likes the Yankees a bunch today again, but I am just not trusting of J.A. Happ in this start. He's had some rough ones to start.
Oakland Athletics vs. Toronto Blue Jays Betting Tips:
Brett Anderson doesn't have the profile that I normally go with (not enough strikeouts), but he has been getting it done early. He's posted a 3.04 ERA/3.74 FIP on the season and continues to be a very solid starter for Oakland. He faces a Toronto offense today that has just a 67 wRC+ and .630 OPS against lefties on the season. I like his chances here.
Aaron Sanchez has been lucky early as he's posted a 2.77 ERA/4.53 FIP. His walks have been high and he's had trouble with the longball in the past. The Athletics have a 93 wRC+ against righties this season.
Bet Athletics +100
Milwaukee Brewers vs. New York Mets Betting Tips:
The Brewers send Brandon Woodruff to the mound who has had an up and down season to start the year. He allowed five runs to the Dodgers his last time out and has allowed 4+ in three of his five starts. He has huge strikeout numbers so his FIP is trying to drag him back, but the homers bring him right back down. He has a 5.81 ERA/3.90 FIP on the season.
He'll go against Noah Syndergaard here who is having a similar season with a 5.90 ERA/2.93 FIP. For him though, it's been the BABIP more than anything that is bringing him down. That kind of thing does come around.
This seems like a pretty even match-up from both sides, based on this season's stats at least, but I believe in two things: Syndergaard's upside and the Brewers road woes. Milwaukee has been carried by Christian Yelich this year, but he has done most of his damage at home. On the road, he's merely human and it shows in the Brewers 81 wRC+ on the road. I think the Mets get it done here.
Bet Mets -131
Follow @SBTSportBetting