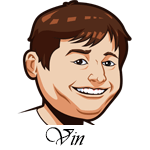 Follow @SBTSportBetting
A 2-1 night last night.
We started the day with the Braves and Reds over nine runs and this one went right to script. Sean Newcomb allowed four runs and Homer Bailey allowed four runs. This is what I'm looking for with an over nine runs, a tie at four that locks in a not loss. Uber prospect Ronald Acuna went deep in the win and the Braves are suddenly kind of interesting.
Chris Sale let us down last night. The Red Sox won 5-4, but he gave up three runs in his innings which was not what we wanted when we were laying the runs. This was similar to the Miguel Rojas on Clayton Kershaw homer from the other day as Devon Travis hit a three-run homer off Sale in this one. While he has shown power in the past, he has a .155/.222/.259 slash line on the season. Not exactly the threat you are looking for to ruin your bet.
We finished the night with a win on the over of the Royals and White Sox game. I had pointed out Jakob Junis as someone ready for some regression and boy did he get it. The White Sox scored six runs on five hits off of him. Lucas Giolito pitched his best game of the year, but still allowed two runs and Nate Jones added another to give us the win. Close, but a win is a win.
Some big series heading into this weekend and I'm feeling pretty confident about a few of these series. Let's get into today's games.
[text-blocks id="137″ slug="email"]
Detroit Tigers vs. Baltimore Orioles Betting Tips:
Mike Fiers is not a blowout pitcher. He is not a great pitcher, but he is very solid and consistent. His career FIP is 4.14, his FIP thus far is 4.14. You know what you are getting with this guy.
His opponent today, Chris Tillman? Not so much. In four starts he has a 9.87 ERA/8.08 FIP and all the stats look bad. Five homeruns allowed, 2.365 WHIP and 5.7 BB/9. This guy should probably be out of a job if he doesn't shape up soon. I could see him maybe having an okay day. Four runs allowed?
But I don't see him in a good position to win this one. The Tigers bullpen has been pretty solid this season while the Orioles is a full half run higher. They aren't the best team in the league, but I like the Tigers today.
Bet Detroit (EVEN) at: [text-blocks id="87″ slug="bet-mlb"]
Chicago White Sox vs. Kansas City Royals Betting Tips:
Kauffman Stadium is usually a pretty strong pitcher's park so yesterday's over shouldn't be considered the norm. It's usually a good park for unders and that is exactly what I'm looking at today.
Danny Duffy goes for the Royals and while he has struggled a bit early, I am still a fan. He should benefit from having Salvador Perez back behind the dish and some home cooking will be good for him. The White Sox have been a tough offense early, but they are far worse against left handed starters.
He goes against Reynaldo Lopez who has been the best of the White Sox young starters on the early season. He has a 1.50 ERA/4.22 FIP with 8.6 K/9. He is definitely a regression candidate but with this park and this Royals offense, I'm not too worried about that today.
I like both of these starters… for the first five innings and am taking the under there.
Bet Royals/White Sox Under 5 Runs First Five Innings at: [text-blocks id="87″ slug="bet-mlb"]
New York Yankees vs. Los Angeles Angels Betting Tips:
Luis Severino has picked up right where he left off in 2017. He's 4-1 with a 2.32 ERA/2.47 FIP with a 0.903 WHIP and 9.9 K/9. In a word, he is awesome. He faces a tough Angels offense today, but outside of Mike Trout there is no hitter in this lineup he should fear.
He faces Andrew Heaney who checks a couple of boxes we are looking for when going against the Yanks. He's a lefty and he is struggling. Just two starts on the year, but he has a 9.64 ERA/5.54 FIP. This is only his ninth start since 2015 so he's not back to whatever he once was (and may never be) and I like the Yankees to exploit that today. He allowed three homeruns in his first two starts which is not something you want to vulnerable to when facing this offense.
I think the Yankees roll today and I will be laying the runs.
Bet Yankees -1.5 at: [text-blocks id="87″ slug="bet-mlb"]
[text-blocks id="110″ slug="middle-ad"]
Follow @SBTSportBetting