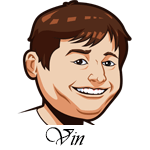 Follow @SBTSportBetting
An 0-3 night last night.
Pretty sure that's the first time I've typed that sentence all season. As always, it was a frustrating one.
Chris Tillman is always one of my favorite pitchers to target and he threw a shutout. Yep, that kind of day. I wrote in the preview "This guy should probably be out of a job if he doesn't shape up soon. I could see him maybe having an okay day. Four runs allowed?" Nope, zero runs allowed. In retrospect, I should've went under here.
I went under five runs on the first five innings in KC/CWS game and they scored six. I try not to complain too much about individual plays because they go for you as much as against you, but somehow the Royals allowed a sacrifice groundout to the pitcher. How is that even possible? You can't get any closer to home.
We ended the night with the Yankees winning, but not covering the 1.5 spread. I'm wondering if the New York to Los Angeles flight might have slowed the Yankees down early because they really should've hit Andrew Heaney in this one. Aaron Judge, Gary Sanchez and Giancarlo Stanton combined to go 1-for-13 which is no way to cover a spread.
As they say in Frozen, let it go. Let's move on to the next day.
[text-blocks id="137″ slug="email"]
Tampa Bay Rays vs. Boston Red Sox Betting Tips:
David Price seems to be back this season and that's a good thing for the Red Sox. He has a 2.93 ERA/3.54 FIP which is right in line with his season projections. He faces his former team and while they've hit lefties this season a bit, I'm not very afraid of them. These teams matched up back in March when Price threw seven innings of shutout ball.
Yonny Chirinos is putting up some nice numbers in his first full season, but there are two things I'm looking at here. He's been hit in his last two starts, allowing two and six runs with homers in both, and he's never made it past 5 2/3 innings in a game. That means bullpens and the Rays have a 4.79 ERA/4.34 FIP thus far this year. The Red Sox can hit them and I am going to the lay the runs here.
Bet Boston -1.5 at: [text-blocks id="87″ slug="bet-mlb"]
Seattle Mariners vs. Boston Red Sox Betting Tips:
Mike Leake is coming off perhaps his worst start as a Mariner and now has to face a tough Indians offense today. It's hard to look at his stats without that start tarnishing them, but his walks are up and his strikeouts are really low. He's better than that start, but he's no more than a middling starter.
He's not the target here though, the target here is Carlos Carrasco. He has been absolutely on fire to start the season. He's 4-2 with a 2.31 ERA/3.20 FIP and has done a nice job keeping his walks down early. He faced Seattle earlier this year and got rocked. Since then every start of the year has seen his ERA go down and his strikeouts go up. He's a different pitcher now and I like him to grab the win today. Lay the runs.
Bet Indians -1.5 at: [text-blocks id="87″ slug="bet-mlb"]
[text-blocks id="110″ slug="middle-ad"]
Follow @SBTSportBetting