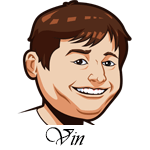 Follow @SBTSportBetting
A 2-1 day last night.
The Yankee game was our big winner yesterday and this one felt good. I said that the right handed hitters on New York would hit the ball and specifically name checked Gary Sanchez, Giancarlo Stanton and Aaron Judge. Well, all three homered and the Yankees went on to win 7-2. We also had the over in that one so those overs were a big help to us.
I have to give a shout out to Kevin Roth for this one as I always check his site daily for weather updates. He goes beyond "will it rain?" and into what the humidity, precipitation and wind will do to the ball and the player's performances. I wouldn't have had this pick without him yesterday.
We had another pick, but the less said about that one, the better. Eight earned runs by Felix Hernandez was not what I had in mind yesterday.
[text-blocks id="137″ slug="email"]
St. Louis Cardinals vs. Arizona Diamondbacks Betting Tips:
I don't understand this line at all. Robbie Ray had a huge breakout year last season with a 2.89 ERA/3.72 FIP with 12.1 K/9. He is a big time strikeout pitcher and a lot of people are predicting him for another leap this season. He had a rough go in his first start of the year, but he still finished with eight strikeouts. He's a great pitcher and tonight he draws the Cardinals.
He's going against Adam Wainwright and here's where I get confused. The Cardinals are favored in this one despite last season seeing Wainwright post some not great numbers. He had a 5.11 ERA/4.29 FIP with a 1.50 WHIP. His best days are clearly behind him and I think the D-Backs will be able to get some hits off him. Going with the Diamondbacks tonight.
Bet the Arizona Diamondbacks +120 at: [text-blocks id="87″ slug="bet-mlb"]
Detroit Tigers vs. Chicago White Sox Betting Tips:
Whenever I see these two starting pitchers on the board, I think over. James Shields and Jordan Zimmermann are two of the worst starters in all of baseball. Last season Zimmermann had a 6.08 ERA/5.18 FIP and led the league in earned runs while Shields had a 5.23/5.83 line. These guys are going to give up the runs. I don't care that these offenses aren't the most desirable ones out there, these guys are gas cans and they are going to give up runs. Take the over.
Bet White Sox/Tigers Over 9 Runs at: [text-blocks id="87″ slug="bet-mlb"]
Oakland Athletics vs. Texas Rangers Betting Tips:
I haven't had a place to put this yet this year, but I really like the Athletics this year. They have a nice young core of hitters in Matt Olson, Matt Chapman and Khris Davis and their pitching is always intriguing. Daniel Mengden who is on the mound today is one of those intriguing names and I like him to pitch well at home today.
He goes against Martin Perez who is a rather uninspiring pitcher that I think the Oakland offense will hit today. Neither one of these teams has what you would call a great bullpen, but I think the Athletics will pull this one off.
Bet Oakland -142 at: [text-blocks id="87″ slug="bet-mlb"]
[text-blocks id="110″ slug="middle-ad"]
Follow @SBTSportBetting