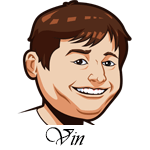 Follow @SBTSportBetting
Another 2-1 night last night. That's three of those in the row. On the surface, not so impressive, but 6-3 is exactly the kind of numbers we're looking for. We're not perfect. That brings us to 12-10-1 on the season which is almost exactly even. Let's start making some money going forward.
Our big pick was the White Sox/Tigers over. This was a lock in my mind, even with snowy conditions at the stadium. James Shields and Jordan Zimmermann just aren't good pitchers. Shields gave up 3 runs while Zimmermann gave up six. That put us right at a push and the White Sox bullpen did the rest of the work, giving up another six runs in the final three frames.
The other game we won was the Diamondbacks over the Cardinals. I expected a big game from Robbie Ray and we got it. Six innings, 9 strikeouts and just one earned run as the D-Backs won 3-1. His walks were a problem in this one, but not one that we ultimately had to pay for.
The loss was the Rangers beating the A's. Mengden got hit early, but the Athletics rallied a bit before leaving just about every runner on base. 20 LOB in this one for Oakland.
We had a long day in New Orleans yesterday so I am writing this one a bit bleary eyed at a Starbucks so let's get right into it.
[text-blocks id="137″ slug="email"]
Colorado Rockies vs. Atlanta Braves Betting Tips:
The first Coors Field game and the line is set crazy high as always. We'll have to see if this one plays, but if it does I am definitely leaning towards the under in this one.
Brandon McCarthy has done a good job in his career of getting groundballs and limiting homeruns. While German Marquez (like all Rockies homegrown pitchers) is raised to be that way. I think there will be lots of groundball outs in this one and not a lot of fireworks. With rain expected and game time temps in the 40s, I just don't see this being the Coors game that everyone wants it to be.
Bet under 10.5 runs at: [text-blocks id="87″ slug="bet-mlb"]
Los Angeles Dodgers vs. San Francisco Giants Betting Tips:
This is definitely more of a feel pick. The Dodgers and Giants played the first three games of the season and scored almost no runs. While Derek Holland isn't a great pitcher, he is a lefty and a lot of the Dodgers best players hit lefty. That benefits him greatly in this match-up. The Giants offense started cold before heating up against the Mariners, but I think they'll have issues with Kenta Maeda today.
These two teams don't play a lot of slugfests as their parks are both pitcher friendly and the teams are very much built around pitching. Going under on this one.
Bet Dodgers/Giants Under 8 Runs at: [text-blocks id="87″ slug="bet-mlb"]
Kansas City Royals vs. Cleveland Indians Betting Tips:
On paper, this is a pitching match-up as Carlos Carrasco takes on Danny Duffy. Carrasco is a great pitcher who got banged around by the Mariners in his first start, giving up two homeruns. Duffy only lasted two innings in his first start and allowed three homeruns. While I like both pitchers and think great things of them this season, I don't love this total. They are vulnerable.
Duffy in particular as he throws left handed and last season the Indians were the third best team in the league in OPS against lefties. Their lineup is mostly unchanged and I think they will hit him hard today.
Bet Indians/Royals Over 7.5 Runs at: [text-blocks id="87″ slug="bet-mlb"]
[text-blocks id="110″ slug="middle-ad"]
Follow @SBTSportBetting