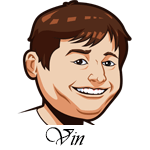 Follow @SBTSportBetting
Tough day yesterday as things just don't go as planned.
In the wide range of outcomes I try to look at in any particular game, German Marquez giving up seven runs to the Braves offense was not one of them. The final score on this one ended up being 8-3 so we missed the under by just 0.5 runs. Couldn't he have given up six runs instead? Tough break and if he is more towards where he will be over the course of the full season that would've been a win. Big shoutout to the hitters here though as game time temps were around 25 degrees and for them to hit like that is kind of amazing.
Our other loss was the Indians/Royals game going under. This was a game of missed opportunities. Both teams combined for five runs in the first inning and it really felt like we were going to cruise to the over in this one. Instead, both teams went scoreless the rest of the way. This game was oh so close to going over when Carlos Carrasco loaded the bases in the sixth with Lucas Duda up next, but it was not to be. Once the Indians got to Andrew Miller and Cody Allen, I knew it was over.
The Giants/Dodgers game was postponed due to weather so we didn't even get a chance for a win on the day. Tough day, but that's baseball. You can't win them all, you just have to try to. Let's get to today's tips.
[text-blocks id="137″ slug="email"]
New York Yankees vs. Baltimore Orioles Betting Tips:
The Yankees offense versus a garbage pitcher is going to be a theme that you see many, many times on this site this season. This team lead the league in blowouts last year and then added Giancarlo Stanton to the mix. They are going to really rock some poor pitchers and today seems like one of the times that will happen.
While Chris Tillman isn't quite a garbage pitcher, he's still not a great one. He has a career 4.45 ERA/4.68 FIP and is coming off his worst season ever where he posted a 7.84 ERA/6.93 FIP with 2.3 HR/9. Those are real numbers across 24 games in 2017 and that bodes well for the Yanks with Sonny Gray on the mound.
Don't overthink this one, Yankees are going to win big.
Bet Yankees -1.5 at: [text-blocks id="87″ slug="bet-mlb"]
San Diego Padres vs. Houston Astros Betting Tips:
Same thing here. The Astros are a big, bad offense and Bryan Mitchell is over his head. Mitchell had a 5.79 ERA/4.20 FIP last season in 20 appearances and got rocked in his first appearance for five runs. I don't like the way that turns out for him or the Padres and I think the Astros are going to roll.
He goes against this Astros offense and Gerrit Cole today. Cole had an absolutely outstanding first start for the Astros as he went 7 innings with 11 strikeouts. Expect more of the same here and a shutout is not out of the question.
Bet Astros -1.5 at: [text-blocks id="87″ slug="bet-mlb"]
[text-blocks id="110″ slug="middle-ad"]
Follow @SBTSportBetting