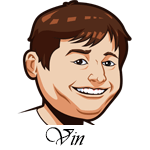 5-2 last week. 57-45 on the season.
A big slate tonight and I have four picks for you.
Let's just get right into it.
Best Odds for NBA:
Philadelphia 76ers at Boston Celtics Betting Tips:
Joel Embiid is back and the Sixers should be good to go tonight. He took the last game off to avoid playing in a back-to-back so he should be especially well rested here.
Boston struggles to defend in the paint and they will be without Tristan Thompson tonight. The Celtics are right at .500 for the season so this isn't as marquee of a match-up as it once was.
These two teams have played twice this season and the Sixers won handily in both. I see no reason for that to change here. This line is way too low for the talent differential between these teams and I'm all over the Sixers tonight.

Memphis Grizzlies at Miami Heat Betting Tips:
The Heat have won four straight and are looking like the team that we've been waiting all season for. The return of Goran Dragic has really opened things up for them and the team has the depth that makes them a threat on any night.
Memphis is playing well of late and beat the Heat earlier this season, but they've lost their last three at Miami. Playing at Miami is always tough for a variety of reasons and this game should be no different.
These two teams are actually pretty even when you look at the stats, but Miami has the depth and they have the advantage in three point shooting. In today's NBA, that's what matters most.
Best Sportsbook To Bet NBA:
Register an Account.
All betting odds and props will now be viewable under the event listing.
You can deposit to BetOnline via over 20 different options such as credit card.
Detroit Pistons at Denver Nuggets Betting Tips:
The Pistons stink and the Nuggets are great. Sometimes it's just that simple.
The line on this one is huge though so we're going with the team over here. The Nuggets are third in the NBA right now with a 116.9 Offensive Rating and they are averaging 115.3 per game. While the Pistons are allowing 114.5 per game in losses.
Looking at those numbers is is close but well worth betting the team over for the Nuggets.
Milwaukee Bucks at Golden State Warriors Betting Tips:
The Warriors are spiraling right now with losses in seven of their last eight games. The stars are getting unhappy and it's just not a great situation right now. The team has really put up some low scoring numbers of late, especially for the kind of offense that they are known for.
Milwaukee is hot right now with three straight wins. They've had a couple of days of to rest before this one which should really help as Giannis has been beat up of late. As long as he is playing here, I think the Bucks are going to roll all over this team.