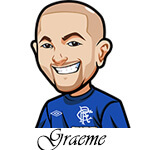 Follow @SBTSportBetting
Hey I'm finally back!
The World Cup qualifiers had no interest to me so I didn't bother handicapping them. Then I ended up being quite busy with the family over Easter Weekend and just didn't have a chance to look at any games and provide tips.
Easter then threw me off. Yesterday was Tuesday but I spent the entire day thinking it was Monday. Just one of those things. I actually missed watching the football and everything yesterday as I thought it was Monday.
Wasn't until I sat down to cover Tuesdays games at 8pm EST last night that I realized oh wait – they're already done. Oops.
Today is Wednesday and here is a quick look at the Champions League games:
Bayern Munich vs PSG:
Munich are favourites here. They have had an unbeaten and almost perfect run in the Champions League thus far and thrashed Lazio 6-2 in the last round.
PSG have had a couple of blemishes but did have that excellent 4-1 win over Barcelona.
Domestically Munich are going strong while PSG are stuttering somewhat with 3 losses in their last 6 games.
Munich though will likely be without Lewandowski which is a concern. Gnabry out too.
PSG stunned everyone with their dismantling of Barcelona. They have it in them. WIth a few key players either missing or not fully fit for Munich, I think betting against them is worth the punt. If Lewandowski ends up playing I would say not to bet this one and just enjoy the match.
1u on PSG or Draw at 1.80 odds.
Porto vs Chelsea:
Porto come into this one having beaten Juventus over two legs. Chelsea had two professional wins over Atletico Madrid.
Porto boast an unbeaten run in the league going back to October 30th domestically, while Chelsea come in stumbling after being lit up 5-2 by West Brom and drawing away to Leeds.
For me – Chelsea just seem like too heavy favourites here. Porto were able to overcome Juventus. They show a strong mentality to stay unbeaten domestically. They're missing Oliveira and that really sucks for them. Taremi out too.
I just feel Chelsea are too heavy favourites.
1u on Porto or Draw at 2.00 odds. At worst I think it is 0EV.
Porto vs Chelsea:
Follow @SBTSportBetting