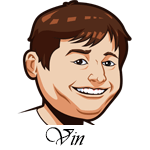 Follow @SBTSportBetting
1-1 back on Satuday.
I had to take a day off Sunday as the combined early starts of the games, the late nights on Bourbon Street and WrestleMania combined to make that a no go. I'm on the road home today and thanks to some Starbucks Wi-Fi, I am back for more tips.
It's definitely been a weird start to the season thus far. The Yankees, Indians, Nationals and (especially) Dodgers have all disappointed early with .500 or below records. It's only been about 10 days, but that is still weird to see when these teams are expected to win 60% of their games and they aren't even winning half of them. These things will correct themselves. Sometimes all at once, sometimes at a slow pace over several months. It's baseball, you just have to be patient.
[text-blocks id="137″ slug="email"]
New York Mets vs. Miami Marlins Betting Tips:
The Marlins aren't good. They are 3-6 to start the season and they have holes all over. Meanwhile, the Mets have been among the best teams in the league early with a 7-1 start to the year. That's huge and tonight they should make it 8-1 with Noah Syndergaard on the mound.
It's really not fair, a pitcher with his big strikeout stuff against a team full of young, inexperienced hitters. This could be a huge game from him, I'm talking 10+ strikeouts. He goes against Jose Urena who got rocked by the Cubs on Opening Day before putting in a good performance against the Red Sox. I'm thinking that first guy shows up.
Bet Mets -1.5 at: [text-blocks id="87″ slug="bet-mlb"]
Cleveland Indians vs. Detroit Tigers Betting Tips:
Take almost all that stuff I said above and apply it here. The Tigers are bad, the Indians are great. Remember how I said that teams can get back in the winning spirit all at once? This is what I'm talking about, this series against the Tigers. The Indians are better than them in every way and I am expecting big things from them.
Corey Kluber could have a huge strikeout game and Francisco Liriano is a lefty going against one of the best teams in the league against left handed hitters. This should be another blowout and I have no problem laying the runs here.
Bet Indians -1.5 at: [text-blocks id="87″ slug="bet-mlb"]
Seattle Mariners vs. Kansas City Royals Betting Tips:
I'm not entirely sold on either of these starting pitchers. Marco Gonzales gave up three runs late in a win over the Giants in his first start of the season. It was a solid start, but there were hardly any strikeouts and the Giants made some good contact. I think we can peg him for another 3-4 runs allowed in this one.
On the other mound, we have Jake Junis who I think is the reason for this artificially low total on this one. (Well, him and the terrible Royals offense.) Junis threw seven innings of three-hit, shutout baseball with six strikeouts. A nice line, but this game also took place in Detroit when it was freezing. I see him having a much harder time against this Mariners offense and I think this game is going to go over the posted total.
Bet Royals/Mariners Over 7.5 Runs at: [text-blocks id="87″ slug="bet-mlb"]
[text-blocks id="110″ slug="middle-ad"]
Follow @SBTSportBetting