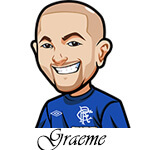 A close outing in the golf last weekend with a tight end.
Our 60/1 pick of Lucas Glover was a real rollercoaster. He looked good for a win on Sunday. Then he knocked himself out of contention for the e/w cash. Then he bounced back and finished up tied for first and looking like a playoff.
Alas that didn't happen but we'll take the E/W cash anyway.
Here's the betting slip for that one:

I've had some people ask me about changing how I display my betting increments. Currently I do 1/8u, 1/4u, 1/2u and a very rare 1u. Honestly it's just the way I like to list golf bets in terms of confidence.
1u for me is probably $500 although I occasionally go to $1000 with that often being my 1u for Majors and certain tournaments, which is the max I bet currently. I was asked to move to a more simpler system of like 1u being my base bet.
Not sure if I'll do that yet – I'm still thinking about it. The thing is golf is different in regard to other sports in terms of confidence. It feels weird betting 1u on the 60/1 Lucas Glover for example. I'm so used to betting 1u or 2u on soccer or NHL tips where I have a strong confidence level.
However it would make it easier in terms of putting all the bets in a spreadsheet – something I've been meaning to do for tracking purposes for awhile now. So we'll see. The problem is the current system is:
1/8u: $62.5
1/4u: $125
1/2u: $250
1u: $500
The new system would have to be:
1u: $62.5
2u: $125
4u: $250
8u: $500
It just seems crazy to me suggesting to risk 8 units on a golf bet – even if it's the same as the previous system in terms of dollars – just a different increment.
So we'll see. If anyone has any suggestions let me know but I must admit I feel more comfortable throwing out 1/8u bets and 1/4u bets as opposed to 2u and 4u bets.
This week we've got the Arnold Palmer 2019. I held off on tips for a day due to Tiger pulling out – figured it wasn't fair to tip anyone when the odds would most likely change.
Last years we saw Rory with that zen like performance on the final round. Boy I'd love to see that again.
Arnold Palmer 2019 Betting Tips:
Man this is a TOUGH one. A lot of possibilities and the odds for the top guys are very tough. One where I've went through it all second guessing myself. That performance from Rory last year is fresh in my memory but at 13/2 I don't know if I can back him despite his performances here and his form coming into this.
Day is someone I'd like to back too but his putting isn't good at the moment.
I'm very conflicted so it will just be small bets unfortunately. I'll probably bet Rory but I just don't think I can advise betting on him. Struggled with it and nope just can't.
Louis Oosthuizen: 55/1. Missed the cut last year but does set up well with this course and got a 9th place finish in the first year of the course changes back in 2015. Form is alright this year and worth a 1/8u to win & E/W bet.
Matt Wallace: 100/1. Never played here but metric wise I think he will fit in well at this course. 1/8u to win & E/W
Lucas Glover: 50/1. In fine form, performed well here previously with a 7th place two years ago. Worth a bet. 1/4u to win & E/W
Jason Kokrak: 70/1. This guy just doesn't like missing the cut it seems. Performed well here previously – could be a contender.1/8u to win & E/W.
And yeah I'm betting Rory ha. Won't be considered a winning tip though. Just one of those I think I'd kick myself if I didn't and he won.
Qatar Masters 2019 Betting Tips:
1/8u to win & E/W on Gaganjeet Bhullar. and Victor Dubuisson.