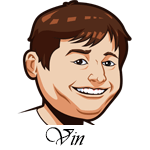 A 1-0 record last night.
Zack Greinke was great and the Astros bullpen finally held one for the easy cover on the -1.5. A four-run sixth inning was all that was needed for the 5-1 win by the Astros.
We ended up skipping the Mariners/Rangers over because of the roof being closed, but it turned out not to matter thanks to the Seattle bullpen. The Mariners took a 4-2 lead into the seventh inning when the Rangers erupted for five runs to grab the win and the over. Congratulations to anyone who did that, but I just need more data about that stadium before I mess with over/unders there.
That was the 20th game of the season for the Astros and Giants, but the Cardinals have still played just five games and they are off again today. At one point does this become too much?
A very short schedule today thanks to the Cardinals and rest for a ton of other teams. Both of today's games take place early. Orioles/Phillies at 4:05 Eastern and Rays/Red Sox at 4:30 Eastern.
Best Odds for MLB:
All tips based on the starting pitchers listed. Tips should be considered void if any pitching changes are made unless otherwise noted.
Baltimore Orioles at Philadelphia Phillies Betting Tips:
Orioles: Tom Eshelman 6.50 ERA/7.33 FIP (2019)
Phillies: Jake Arrieta 4.64 ERA/4.89 FIP (2019)
Jake Arrieta has been great to start the season with a 2.45 ERA/3.89 FIP over his first two starts. He's really kept his walks down and what I find most impressive is he did it against two really good offenses in the Yankees and Braves. The Orioles have been hitting the ball well early, but they don't strike fear quite like those guys. I think that Arrieta can post another solid start here today and get the win for his team.
We've seen some wild games with the Orioles of late, but it really feels more like small sample size theater than anything else. Tom Eshelman has been very lucky early and I think he'll get hit hard today. This Orioles bullpen is tough, but it could be a long one for them.
Tampa Bay Rays at Boston Red Sox Betting Tips:
Rays: Tyler Glasnow 1.78 ERA/2.26 FIP (2019)
Red Sox: Kyle Hart 3.86 ERA/4.32 FIP (2019 – Triple-A)
Kyle Hart will be making his MLB debut here and the projections really don't see him doing very well. He had not great strikeout numbers and a high walk rate in AAA last year and I think the Rays offense can succeed against him here.
Glasnow has had a rough start to the year, but he has big strikeout stuff and this Red Sox offense has been "mash or crash" all year long. He's shown signs of the guy we thought he was and I think he shows it here. The strikeouts should be there as the Red Sox strike out 24.4% of the time and they have one of the lowest walk rates in the league. That plays well for Glasnow and the Rays.
Best Sportsbook To Bet MLB:
Register an Account.
All betting odds and props will now be viewable under the event listing.
You can deposit to BetOnline via over 20 different options such as credit card.