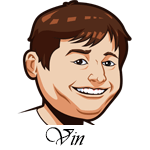 Follow @SBTSportBetting
A 2-0 record last night that was really a 3-0.
You really need to be sure of your sportsbooks rules. Yesterday's Yankees/Jays game we bet the over of 9 runs and they combined to score 12 runs. The only thing is they scored them in just seven innings and the game was called due to weather. Where I bet, this was a refund of my original bet as the game didn't go the full nine despite it going over. I understand that rule and why it exists (and I wouldn't be complaining if I bet under), but I've always felt that overs should pay the moment they go over. If they play two more innings, it's not going to magically go under. It's an official game in the record books, it should be at the sportsbook. Oh well.
We won our other two overs as well. The Rays/Red Sox over 9 runs was pretty one sided as the Red Sox won 7-3. In the Padres/Diamondbacks over 7.5, Arizona did it themselves with a 9-4 victory. A nice night all around.
Four picks today, two early games and two late games.
[text-blocks id="137″ slug="email"]
New York Mets vs. Philadelphia Phillies Betting Tips:
Jacob deGrom is the man. He only has a 7-7 record, but he should be in the conversation for the Cy Young award this season. He has huge strikeout numbers and a 1.81 ERA/2.14 FIP. His team hasn't backed him up much on offense this year, but they are hitting the ball well of late and I love his match-up against the Phillies here. Philadelphia is below average on offense on the season and has really been cold over the past 14 days with just a 84 wRC+.
The Phillies' Jake Arrieta has been good, but he is no way on deGrom's level. He has a 3.33 ERA/3.95 FIP on the year and is coming off a start where he allowed 5 runs to the Padres. While the Mets offense isn't scary, they have been hitting the ball well of late and it won't take much for them to win with deGrom on the mound. Honestly, I just think this line should be a lot higher and at this number it's a great value.
Bet Mets -110
Baltimore Orioles vs. Cleveland Indians Betting Tips:
How is this total so low? Alex Cobb is very hittable with a 5.31 ERA/4.68 FIP on the year. He's playing on the road, against a good offense, in a park where runs seem to come easy.
Then the Indians send Adam Plutko who has a 4.75 ERA/5.99 FIP on the season. Just like Cobb, he doesn't get a ton of strikeouts and is playing in this park. The Orioles offense has been playing well of late and I just see a lot of runs here. Take the over.
Bet Indians/Orioles Over 9 Runs
Miami Marlins vs. Washington Nationals Betting Tips:
It's our old friend, Wei-Yin Chen. We've made a lot of money betting against this guy this season and it's time to do it again. He has a 5.32 ERA/5.07 FIP on the year and those numbers are significantly worse on the road. The homeruns have come easy against him this year and the Nationals offense is heating up. This is a great place to lay the runs.
I'm not the biggest Tommy Milone fan, but it's hard not to like him in this match-up. He's done a good job of keeping his walks down this season (in limited time) and his strikeouts up. The Marlins have just a 78 wRC+ on the season against lefties while they have a 54 wRC+ over their past 14 days. That's awful and match-ups like this are a big reason I haven't given up on the Nats in the NL playoff race just yet. Lay the runs.
Just as I post this Milone was scratched for Jefry Rodriguez. I do not have the same confidence in him.
Bet Nationals -1.5 (-105)
Tampa Bay Rays vs. Boston Red Sox Betting Tips:
This was a nice over for us yesterday and I am going back to the well on it here. Tyler Glasnow has looked good for the Rays in his first few starts, but this is the Red Sox at home. Nobody is going to look good against the, especially when they are right handed. They are sporting a 117 wRC+ against righties on the year and are even hotter of late with a 132 wRC+ over the past 14 days. I see toruble ahead for young Tyler. The Rays have been using a lot of relievers over the last couple of days too so I don't see much relief, pardon the pun.
The Rays haven't been great over the past two weeks, but I really like the way they hit lefties. They have a 108 wRC+ on the year against southpaws and I think David Price is hittable here. He has a 3.75 ERA/3.94 FIP on the year, but has been very lucky in his home starts. On the year his home line is 3.28 ERA/4.02 FIP/4.40 xFIP. The Rays are dangerous here and I like the over.
Bet Rays/Red Sox Over 8.5 Runs
Follow @SBTSportBetting