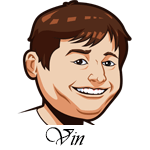 Follow @SBTSportBetting
A 1-2 record last night.
It was a more profitable one than usual as the Padres were a decent sized underdog at +155 and grabbed the win over the Rockies, 4-3.
Our other loss was the over on the Red Sox and Indians at 9.5 runs. This was a close one as they totaled nine runs. The Red Sox didn't wake up until the late innings and that did us in. The Diamondbacks won over the Angels, but failed to cover the -1.5.
There isn't a ton that is jumping out to me today as most of these lines feel right on the money. The system wants to go over on the Indians/Red Sox again, but 9 seems too high with Carlos Carrasco on the mound. The under in Seattle/Houston looks good as well, but Marco Gonzales has had some stinkers of late that I don't fully trust him.
We're left with a couple of overs for today's games. Fine by me.
[text-blocks id="137″ slug="email"]
Atlanta Braves vs. Pittsburgh Pirates Betting Tips:
These guys let us down with this same play earlier in the week, but this pitching match-up is far better for the runs than that one was. Julio Teheran has a 4.24 ERA/5.16 FIP and that's with a crazy low .222 BABIP. The Pirates are slightly below average against righties, but they're at home here and I think they can hit Teheran early as he's definitely been the weak link for them this season.
While the Braves head up against Trevor Williams and his 3.53 ERA/4.30 FIP. He's another low BABIP guy at .258. That will come back around and the Braves offense has the nice young core that can punish him. Ronald Acuna, Ozzie Albies and Freddie Freeman are a truly dangerous trio that looks to be pushing this team into the playoffs.
Bet Braves/Pirates Over 8 Runs
Los Angeles Angels vs. Arizona Diamondbacks Betting Tips:
Odrisamer Despaigne goes for the Angels and I like the Diamondbacks chances of putting up some runs on him quite a bit. He's only made two starts on the year, but he's 31 and went from the Marlins to the Angels. How good could he possibly be? He has a career 4.84 ERA/4.27 FIP and it's only a matter of time until a good offense puts a hurting on him. I think that's today.
I miss Mike Trout as much as anybody, but it's helped us in that the sportsbooks are sleeping on the totals for these Angels games. I feel like this line would be a run higher with Trout in the lineup. As is, the Angels still hit righties pretty darn well and have actually been playing good baseball over the past two weeks. Clay Buccholz has a 2.47 ERA/3.61 FIP on the year, but he has the trouble indicators of a low BABIP and a high left on base percentage.
It won't take much to put this game over, but I could see it easily surpassing this total. Chase Field is always a friendly park for hitters and the Diamondbacks are always dangerous.
Bet Diamondbacks/Angels over 8.5 Runs
Follow @SBTSportBetting