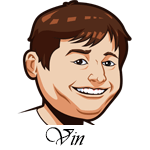 Follow @SBTSportBetting
A perfect 4-0 last night.
We started things off with the 5-inning line with the Nationals over the Red Sox. This was one scenario where I said it doesn't matter who started for the Red Sox and guess what, it didn't. The Nationals scored six runs in the first four innings while Max Scherzer was dealing and only allowed one run.
Our only game that was really close was the White Sox defeating the Royals. The Sox lead multiple times in this game, but the bullpen kept giving it up. Finally in the bottom of the ninth they broke a tie game to get the win.
We were on the Brewers because we liked the offense against the left handed Derek Holland and, oh boy, were we correct. The Brewers scored eight runs off Holland over five innings. They won this game easily, 9-1.
Finally, we had the Indians over the Cardinals and this was another slaughter. The Indians scored four in the first, two in the second, and never looked back. They won this game 14-2. The Indians just feasted in this one and Franmil Reyes had a huge day with a 3-for-4 night with 5 RBIs.
Two picks for tonight.
Best Odds for MLB:
All tips based on the starting pitchers listed. Tips should be considered void if any pitching changes are made unless otherwise noted.
Oakland Athletics at Houston Astros Game 2 Betting Tips:
Athletics: Chris Bassitt 2.97 ERA/3.63 FIP
Astros: Zack Greinke 2.29 ERA/2.11 FIP
I usually stay away from the double headers, but I really like this pitching match-up. Greinke has been lights out thus far this season and he's as close to a lock for five innings as you are going to get. We often see weird lineups for double headers that aren't quite as strong as the normal one so that could help him out here as well.
Bassitt is a solid pitcher, but he's nothing that I really fear. He's running a low BABIP and his HR/FB rate is down. This tip is mostly about Greinke, but I think he could help us along with some well-timed regression in those areas.
Update: The Athletics will start Frankie Montas. I like this even better for Houston. Montas has a 5.22 ERA/4.31 FIP in 2020.
Bet Astros -134 (First 5 Innings)
Washington Nationals at Boston Red Sox Betting Tips:
Nationals: Anibal Sanchez 6.48 ERA/5.95 FIP
Red Sox: Chris Mazza 6.35 ERA/4.57 FIP
I think Sanchez is a better pitcher than his numbers show. Last season he finished with a 3.85 ERA/4.44 FIP for the season and I think he's closer to that. He's running a really high BABIP right now and his HR/FB rate is higher than his career numbers. I think those things will come down and today is a good spot for that. The Red Sox offense is not scary.
The Nationals offense was scary yesterday and I think they can be again today. Mazza isn't known for going deep and the Red Sox bullpen just plain stinks. This line is a lot lower than I would expect it to be as I think there is a good chance we see them matching yesterday's offensive totals.
Best Sportsbook To Bet MLB:
Register an Account.
All betting odds and props will now be viewable under the event listing.
You can deposit to BetOnline via over 20 different options such as credit card.
Follow @SBTSportBetting