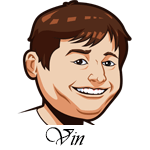 Follow @SBTSportBetting


[Get Exclusive Tips on our Patreon, Ad-Free
]
A rough one yesterday as none of our picks came in.
The Reds offense went cold yesterday against Carlos Carrasco and then the bullpen completely failed things. I wasn't that worried about this game when it was 1-0 heading into the fifth. Luis Castillo got the first two outs of the inning and looked to be rolling, but then he went walk, triple, single, walk and the score was 3-0. Castillo's pitch count went up and he was pulled, and then the bullpen gave up a 10-run seventh inning. That's about the closest 13-0 game you'll ever see as the fifth changed everything.
The fifth was the unraveling for the White Sox as well. They had a 2-1 lead and then Christian Yelich hit an inside-the-park "homer". I put homer in parentheses because it was more bad defense plus speed than anything. This completely unravelled Gio Gonzalez as he followed that up with a walk, a homerun, a runner reached on error, and then a single before being pulled. The Brewers went Josh Lindblom to Freddy Peralta and the two combined for 13 strikeouts in eight innings.
The game that hurt the most was the Astros against the Diamondbacks. The Astros scored two in the top of the eighth to take a 4-3 lead in this game. Ryan Pressly came in for the save in the ninth and didn't record a single out. Three hits and a walk later and the Diamondbacks walked this one off.
So not the best day, but we are still up for the season. I still believe in the system as the games I didn't pick saw results closer to what the system spit out. The system predicts a score that matches the lines and I am looking for games that exceed the line or contradict it.
Anyway, four more picks today. Let's get it back to where we were.
Best Odds for MLB:
All tips based on the starting pitchers listed. Tips should be considered void if any pitching changes are made unless otherwise noted.
Atlanta Braves at Philadelphia Phillies Betting Tips:
Braves: Kyle Wright 7.67 ERA/6.23 (Career)
Phillies: Vince Velasquez 4.91 ERA/5.21 FIP (2019)
Two high walk, high HR/9 rate pitchers against two offenses that rank highly against right handed pitching. Yes, please.
There is a chance of rain here, but if this game plays I expect a lot of runs scored. The system sees this game with 11+ runs and I've seen the line at 10 runs at some places, but if you can get 9.5 then you should go with that.
Bet Braves/Phillies Over 9.5 Runs
Houston Astros at Oakland Athletics Betting Tips:
Astros: Zack Greinke 2.93 ERA/3.22 FIP (2019)
Athletics: Chris Bassitt 3.81 ERA/4.40 FIP (2019)
I still believe in Zack Greinke and I like this match-up for him today. The short warm-up to the season probably messed with a veteran like Greinke, but two starts in he should be feeling more comfortable and I expect his best start of the year here.
The Athletics have just a .665 OPS on the season while the Astros are about 100 points higher than that.
Colorado Rockies at Seattle Mariners Betting Tips:
Rockies: Antonio Senzatela 6.71 ERA/5.44 FIP (2019)
Mariners: Yusei Kikuchi 5.46 ERA/5.71 FIP (2019)
I was a bit surprised to see the Mariners as a favorite here. Senzatela has been great in his first couple of starts of the season and the Mariners offense is average at best.
While Kikuchi had an outstanding start his last time out, the Rockies have some strong bats against lefties and I think he'll have a 5-inning max here. When you throw in that the Mariners bullpen has been one of the worst in baseball thus far, the Rockies are looking good. I know this is their first game after a home series and the "Coors hangover" is real, but for tonight this match-up favors them.
San Francisco Giants at Los Angeles Dodgers Betting Tips:
Giants: Jeff Samardzija 3.52 ERA/4.59 FIP (2019)
Dodgers: Julio Urias 2.49 ERA/3.43 FIP (2019)
The "Coors hangover" is also in play here, but I would be going with this anyways. My feelings about Samardzija are well known and I'll be going against him in this spot against the Dodgers every chance I get. The Dodgers offense has been as good as advertised thus far and match-ups like these are exactly why.
Urias is a great pitcher and the Dodgers bullpen has been among the best in the game thus far. Just a great match-up all around for LA.
Best Sportsbook To Bet MLB:
Register an Account.
All betting odds and props will now be viewable under the event listing.
You can deposit to BetOnline via over 20 different options such as credit card.
Follow @SBTSportBetting